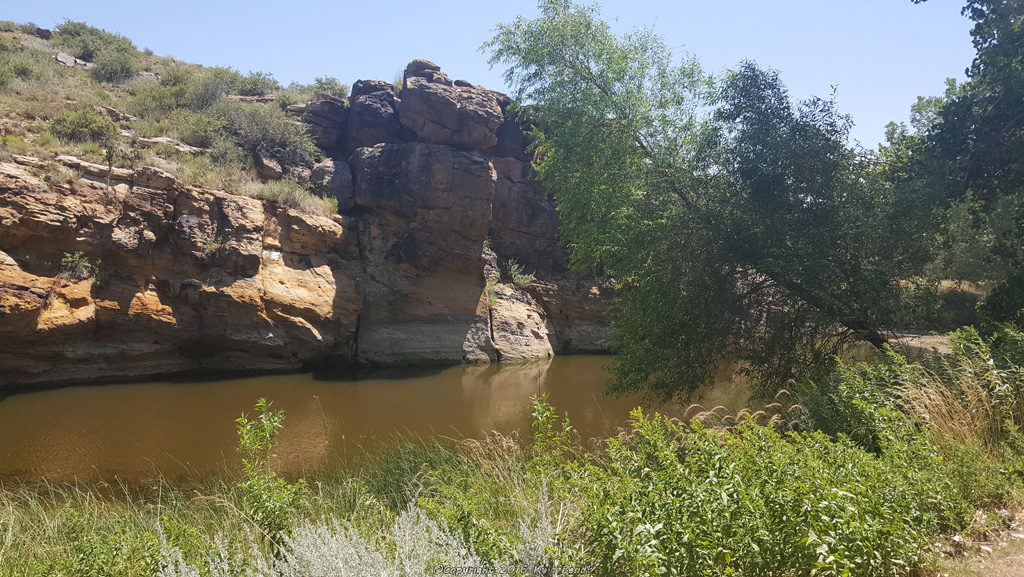 Black Mesa State Park is in the Oklahoma panhandle, above the Texas panhandle, both of which are known for being flat, hot, sunny, and perhaps dull places to have to travel through.  Most of these adjectives are probably actually true most of the time.  While I can appreciate a certain beauty to the sweeping, desolate, flat plains, it gets pretty old driving across them, particularly when I'm really trying to just get somewhere on the other side.  That said, even in these areas, there are hidden places that offer some relief from the monotony.  Actually, I suspect there are more good places around these areas than most know.  It's just that they build the roads in the flattest, ugliest possible places.  At least they built them in the flattest places, the roads themselves probably contribute a fair deal to them being ugly.  Then nobody wants to venture from the road.
Black Mesa State Park is one of those hidden little places.  It's not nearly as lush as some of the other State Parks in Oklahoma and I admit that when I was there on a hot August afternoon, the grass was looking a bit toasty.  It's also not a fancy State Park.  There is tent and RV camping, some trails and a small lake for entertainment.  The place was mostly empty when I stopped by.  It was unclear if that was it's normal state because it's a long way from much of anything else or because it was so hot out.  Co-pilot Hoppy and I did see a herd of cows on the road that leads into the park, so I suspect it doesn't ever see that many visitors.
I enjoyed looking around, taking a short hike on one of the trails and taking a few pictures.  Driving along the road in the park, I saw a sign saying 'Petrified Forrest'.  They did indeed have a collection of large pieces of petrified wood.  (I went to the Petrified Forrest National Park on a school trip when I was in college and didn't see any petrified wood there that was as large as that at this random little State Park.  I don't know if this is because we didn't go to the right places in the park on that school trip or if it's because too many people have raided it over the years.)   I also found a picnic table situated in between two large rocks that I rather liked.  If it hadn't been so hot out, I would have been tempted to dig a snack out of my ice chest to enjoy there.
I didn't stay long since I was heading on to Great Salt Plains State Park for the night.  Hoppy and I drove back through the cows, then hit the long, straight and flat road to make time across the state.
To learn more visit the Oklahoma State Park website.