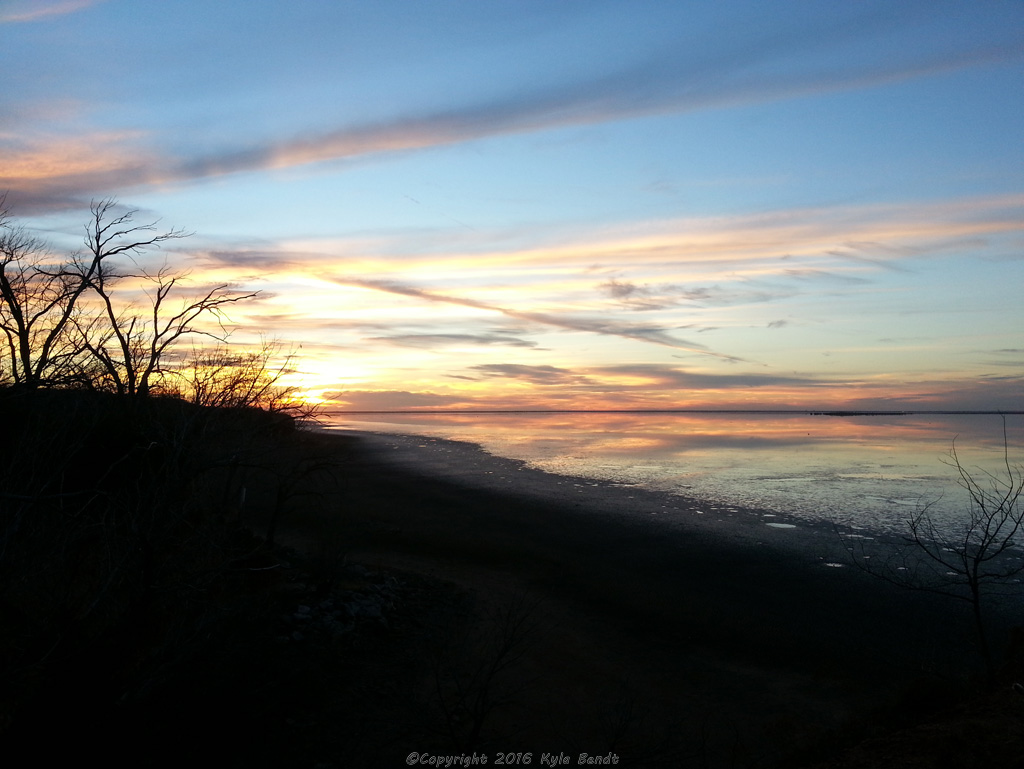 Great Salt Plains State Park always makes me think of my first night there.  I was excited to be there for the first time, and I walked down to the shore of the lake right at sunset and took dozens of pictures, entranced by the beauty of the sun setting over the lake, the gentle clouds, and the reflection of the sunset in the water.  I still feel as though some of these pictures are the most gorgeous ones I've ever taken.
This was back in December of 2012, on a trip that has still left me with many vivid memories.  I don't know why I decided to schedule the trip when I did.  I was out in Oklahoma on this business trip over Christmas, and I remember spending Christmas in another State Park cabin, in the middle of this snowstorm in an area that doesn't normally see snow.  But I digress from my topic.
When most people hear Salt Lake they think Utah, but Oklahoma has it's own salt lake and an accompanying State Park – Great Salt Plains State Park.  The State Park has six small cabins that can be rented out, RV spots and tent spots as well as hiking/biking/horse trails.  One of my State Park traditions is to take a picture of my cabin with my car out front.  Maybe it's since I'm not really a big fan of selfies and don't have any kids to take pictures of.  Having my car in the picture is my way of saying "I was here."  The first two pictures are from my first trip in 2012, and the last one is from my most recent trip in 2016.  (I have another thing for taking pictures into the sun, and I love how the last picture turned out.)
Most of the Salt Lake and the area around it are part of the Wildlife Refuge.  It's closed off some parts of the year, but at others, digging for Selenite crystals is allowed.  It was closed off on my first trip and on the latest, it was too hot for me to want to spend extra time outside.  I did get some pictures of the salt plains and the refuge though.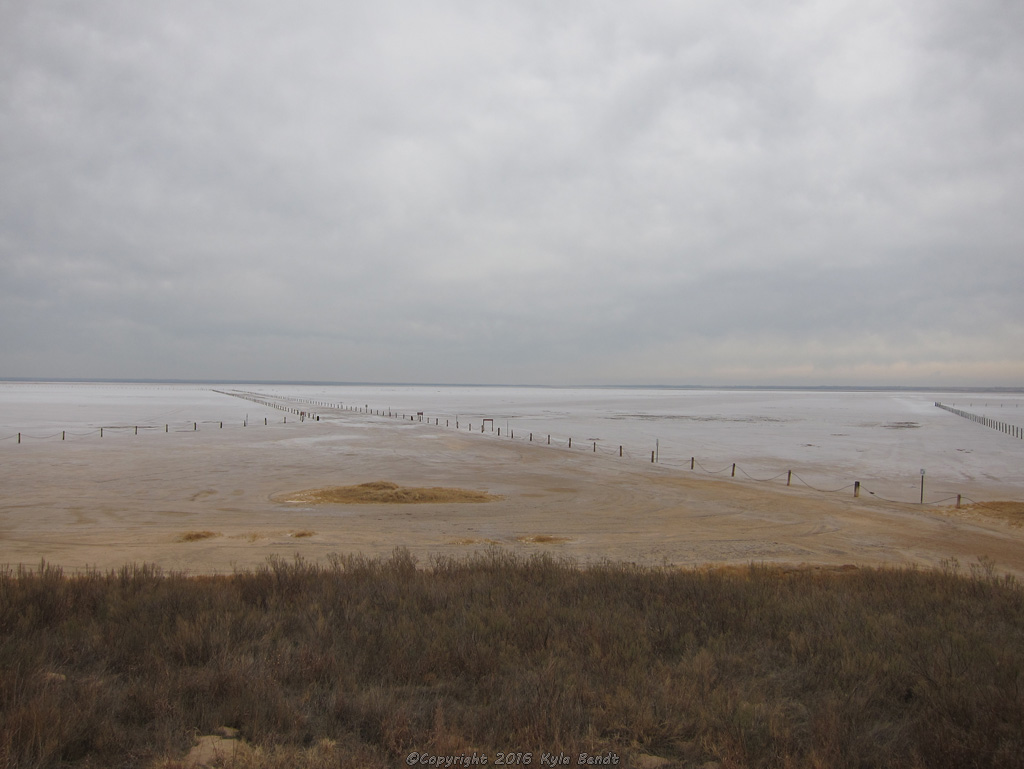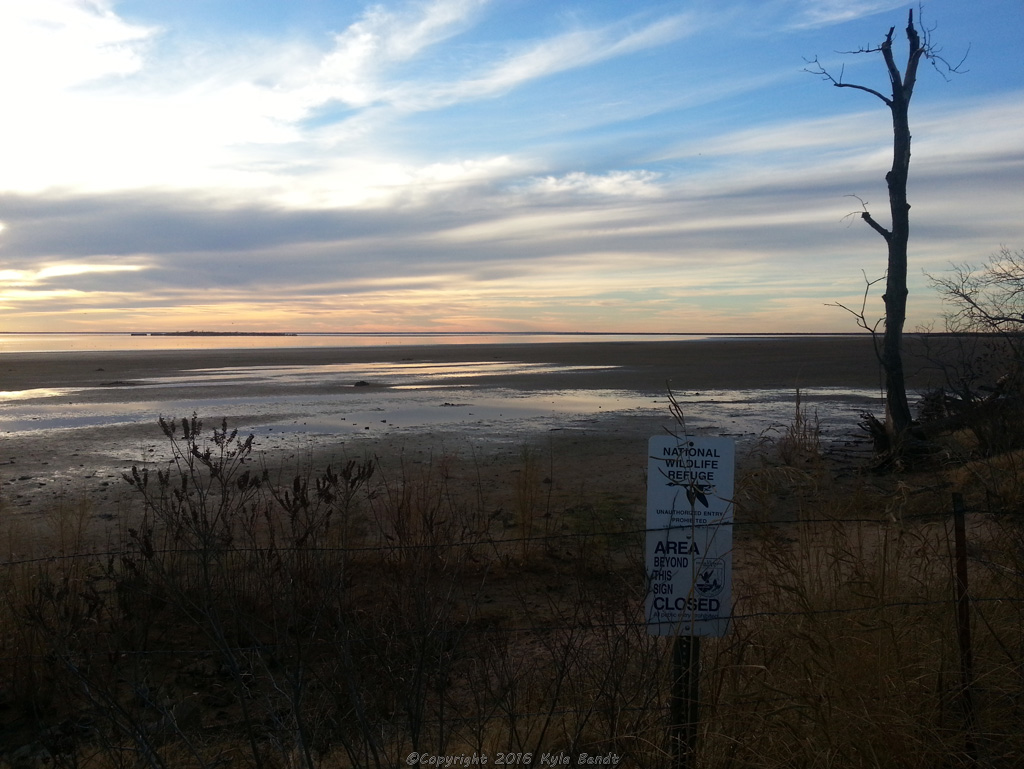 One of the things I love about staying at the State Parks on my business trips is just being able to go outside and have nice places to walk around or sit.  It's such a welcome relief after too many nights spent in hotels in my life.
On my latest trip, I spent a while doing yoga on the lake shore while the sun was setting.  It was perfect and serene.  I'd spent too much of that day in the car, aiming to visit some other state parks that I didn't make it to, getting lost on this dirt road and wasting a bunch of time, feeling hot and honestly, just not having the best day.  But doing yoga by the lake, I thought, "This is what I'm here for."  The thing about traveling (and life) is that there are sometimes some rough chunks in there, but there are moments that make it all worth it.  The next morning when I awoke, I walked down to the lake again, and sat on the boat ramp with my cup of coffee, watching the sky slowly lighten and listening to the waves lapping against the sore.  That was another one of those moments.
I have another sort of State Park tradition of taking a picture of the dams at the lakes.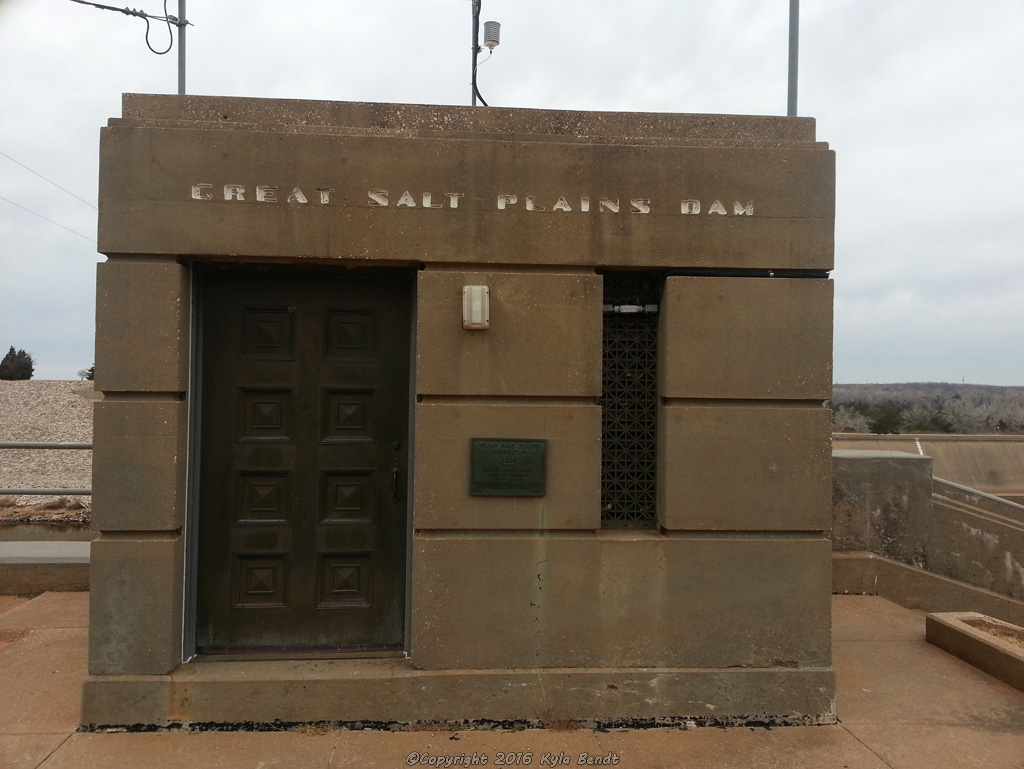 It's interesting to me how I have these specific memories at certain places that I travel to that are spread out over years.  When I go back and visit again, the memories are like a snapshot of what my life was like then.  Chances are, some day, I'll be back to the Great Salt Plains and I wonder what sort of memories I'll make then?  More sunset pictures?  Maybe a longer hike down one of the trails?  Maybe going on a treasure hunt, digging for Selenite?  Only time will tell.
Thanks to the Oklahoma State Parks for another great stay!  To book a stay or learn more visit the Oklahoma State Park website.