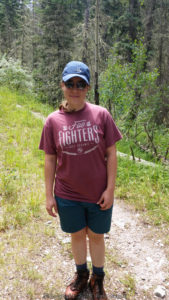 Hi! My name is Kyla. I'm passionate about traveling and exploring the world. I am always looking for ways to live better and enjoy life! My friend Mr. Rabbit aka "Hoppy" comes along with me.
My overall theme is looking to live the best life that I can.  I want to post about anything that can improve my life in hopes of sharing these things with others.  I am very interested in ways to live a happier, more fulfilling life including topics like gratitude, motivation, habits and goals.
I have a ton of interests and I tend to just post about whatever is on my mind at the time.  My interests include (but are not limited to):
Travel
Writing
Music (I play drums)
Books
Technology
Health & Fitness
Learning
Hiking, biking and camping
Geeky science things
Yoga
Entrepreneurship/small businesses
Photography & art
I have always done a lot of writing and somewhere, I guess I have always had these dreams of being a writer.  I feel more and more as though writing is what makes me a writer, but I do want to share the things I write sometimes.  This site is a place to make that aspect of things a reality.
When I started this blog, I had plans to move into my RV Van and travel around the U.S.  Plans are funny things :).  These days I live in the mountains east of Albuquerque, New Mexico with my son B and partner S.  Here's a little poem, which I haven't updated in the last couple of years.
About Me
I'm going to live in my van
Some day I want to be the drummer in a band
I like to travel and I like to write
I try to push my life to new heights
I'm sometimes serious but like to be silly
I wear blue jeans- no skirts and nothing frilly
I decided to start this site
To share my travels and insight
I want to connect and inspire
To make passion burn like fire
And if I can make you smile
This will all be worth my while
Here's a few pictures.  (Click on a thumbnail to see the larger version.)