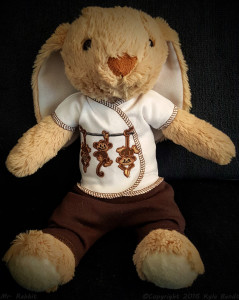 Mr. Rabbit a.k.a. "Hoppy" has a pretty nice life for a bunny.  He has clothes and shoes and toys.  More importantly, he has friends, people that love him and the opportunity to travel the country.
Life wasn't always this way for Hoppy.  A friend of mine was helping a buddy doing work on a house that had been repossessed.  He found a rabbit lying bedraggled in the mud outside of the house.  He picked him up and brought him home in a plastic bag so as to not dirty-up his car.  He then gave the rabbit a bath.
When I first met the rabbit, we called him Baby Bunny.  This lasted until one day when I called him Baby Bunny and he stood up as tall as he could and said, "I'm Mister Rabbit!"  Sometimes I still call  him Baby Bunny, but only where he can't hear.  Since Mr. Rabbit is a little formal, he accepts Hoppy as a nickname.
Somewhere along the way, I adopted Hoppy.  Now, he lives with me along with his friends New Bunny, Baby Kitty and Buc-ee.
Mr. Rabbit
There once was a rabbit found in a puddle of mud
A man brought him home and washed him with water and plenty of suds
Never again would the bunny be cold, wet and alone
The man let the rabbit live at his house while he looked for a permanent home
Along came a kind-hearted girl of twenty-seven
Who snatched up the rabbit who thought maybe he'd gone to rabbit heaven
The first order of business was to buy him some pants and a shirt
Next came some socks and some shoes to protect his little feet from the dirt
Pretty soon the rabbit made friends that came to live with him too
Another bunny, a beaver and a kitty- now the girl's house is practically a zoo!
The girl bought the rabbit pajamas, a tooth brush and some toys
But what the bunny loves the most is his friends and the girl: simple joys
Dress Like Mr. Rabbit Mr. Rabbit's super cute monkey suit comes from Amazon.  His is a micro-premie size, but they have larger sizes available as well.
(Note:I participant in the Amazon Services LLC Associates Program, an affiliate advertising program designed to provide a means for sites to earn advertising fees by advertising and linking to amazon.com. I only link to the few products that I would recommend anyway. I am very selective since I hate ads, thus the lack of any other form of ads on here.)