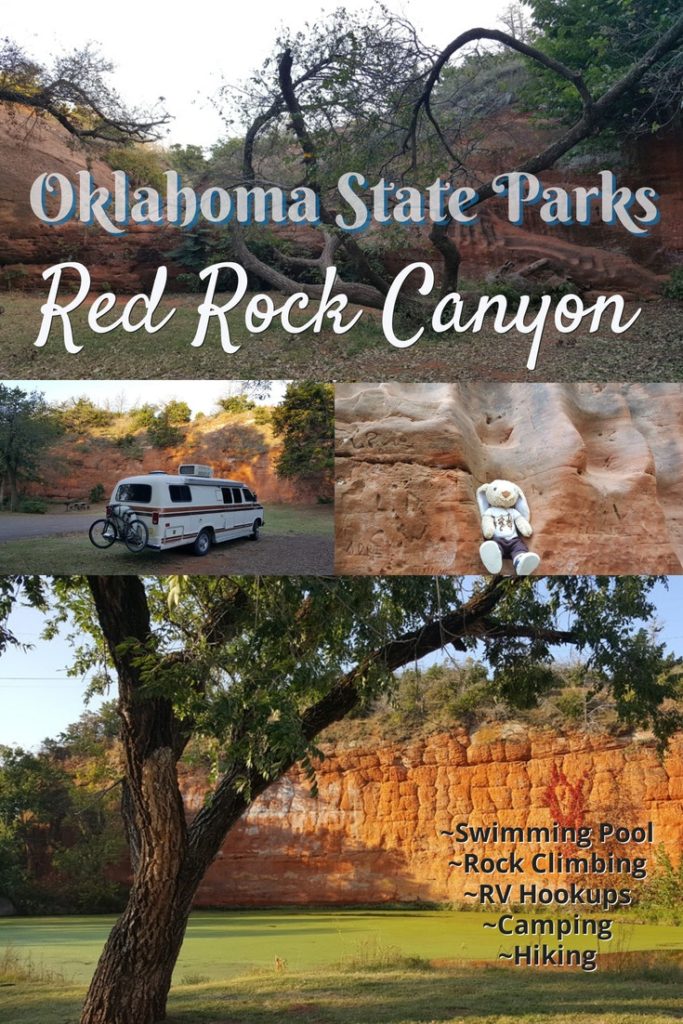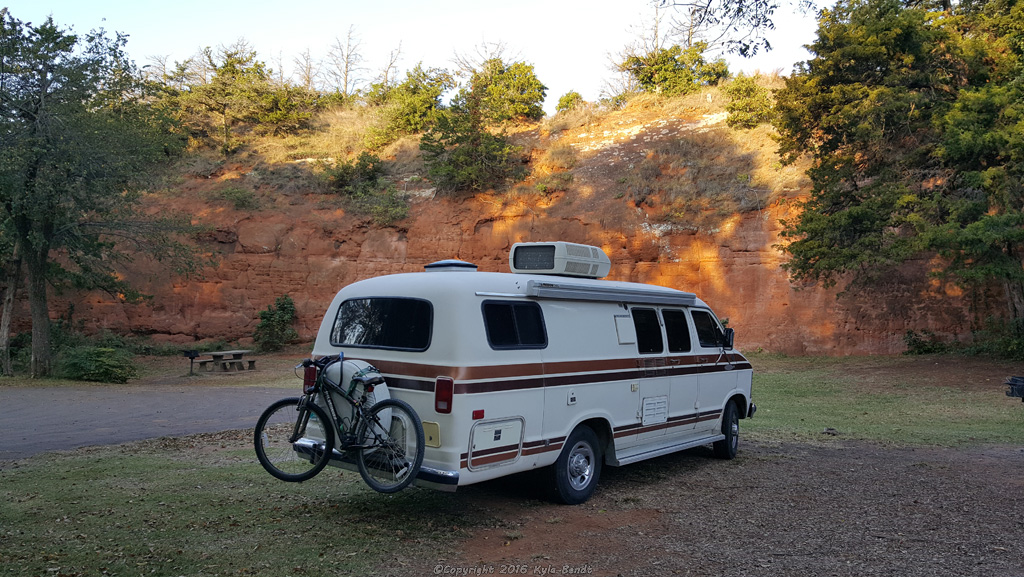 Red Rock Canyon State Park is a very welcome respite when driving I-40 across western Oklahoma.  That drive is characterized by fairly flat farmland.  In contrast, Red Rock Canyon State Park is a small, luscious canyon lined with red sandstone walls that seems to appear out of nowhere.
Unlike some of the Oklahoma State Parks that I love, it doesn't have any cabins, but it's a perfect place for a hike, or staying in an RV or a tent.
On my most recent stay, I pulled in after a long day on the road.  I'd left Santa Rosa State Park in New Mexico that morning.  The drive was less than pleasant.  I was trying to make good time, but the van was running kind of hot so I was trying to not drive too fast.  And since it was running hot, I didn't want to run the AC and make it worse, so I was running hot too.
I stopped on the side of the interstate in Texas somewhere for a sandwich and had the door open for some air.  Several flies took the opportunity to invade my residence and I couldn't seem to get rid of them even driving with the windows down.  A fly is annoying in the best of circumstances.  Sharing a very small space with them feels practically unbearable, even though it's all just a matter of annoyance.  I'm sure there are worse things, but in the moment, it's nearly impossible to think of any.
Then the wind picked up.  The van is difficult to control at times in gusty winds.  A good side wind seems to make it jump several feet in it's lane which is fairly unnerving when driving next to large semi-trucks.  While it feels like it helps, a white-knuckled death grip on the steering wheel only makes things worse.  The wind is bad enough, but the van is slow to respond to input which makes it easy to over-correct leading into a downward spiral.
Oh, and the cruise control refused to stay on and after several hours on the road driving without it, I felt a burning sort of pain in my right leg from pressing down the gas pedal for so long.
And wow, I seem to have a lot of complaints.  I don't want to give biased accounts of my travels though.  I love to travel and there are so many cool things that I've seen.  But some days traveling seriously just sucks.
Anyway, after a day of driving like that I was so ready to pull over and stop for the night.  Red Rock Canyon State Park seemed like the perfect place to do that.  I drove down the very steep and windy road into the park and then along the curvy, tree-lined road that winds through the bottom of the canyon.  I found a spot in the RV area next to the little creek that runs there.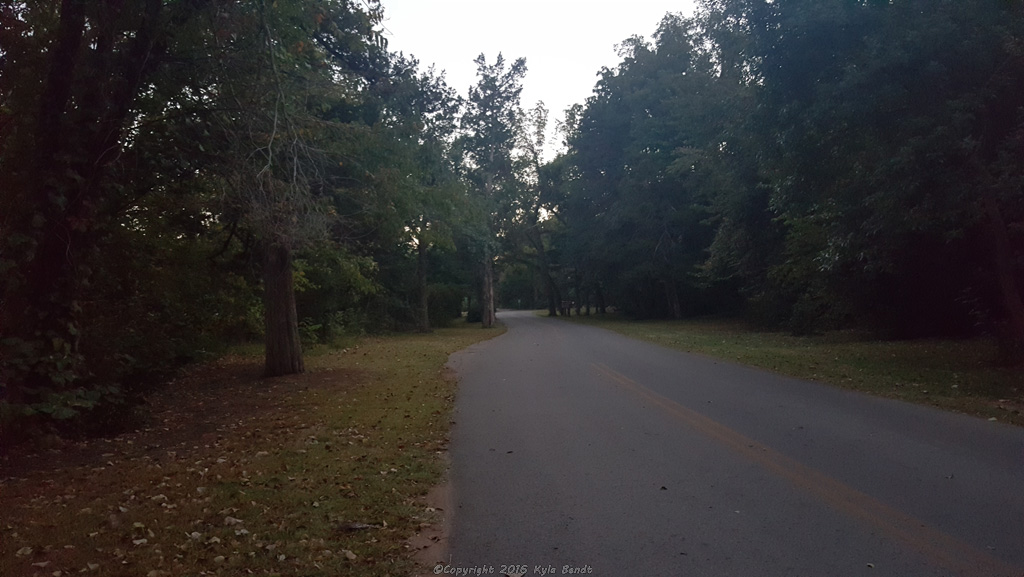 It was nearing dark and I wanted to move around a bit, so I went walking around, finding myself somewhat impulsively jogging down one of the trails with a need to just move after so many hours in the car.  I checked out the tent camping area and it was more secluded than my spot so I moved my van over there and parked in a great spot.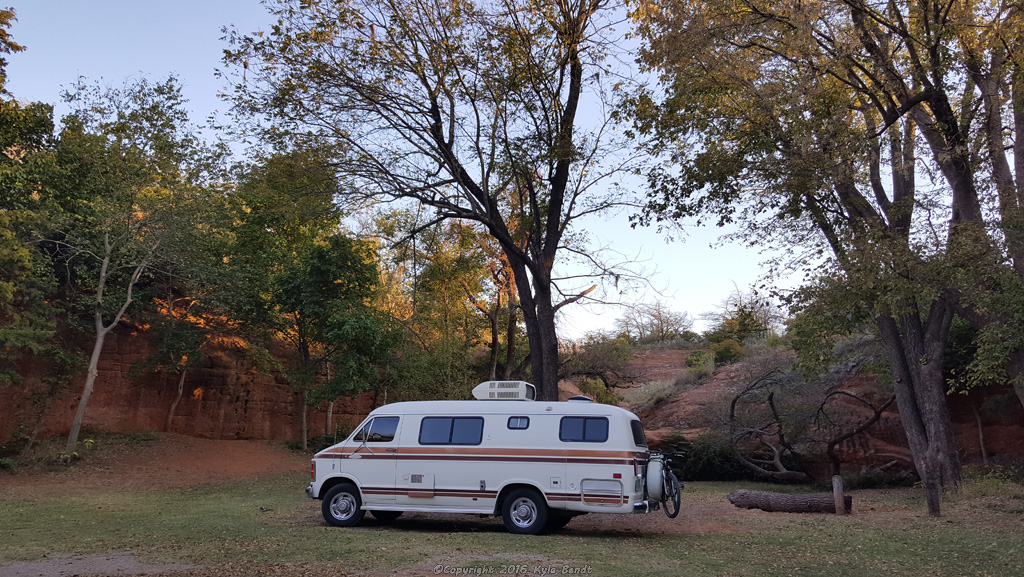 I managed a quick dinner (and had the extreme satisfaction of whacking a few flies with my fly-swatter) before gratefully crawling into bed and slipping into unconsciousness.  The next morning, I was up early and took my breakfast outside to eat at the picnic table.  The sky was just starting to lighten and I was watching the cliff walls and trees as they started to emerge from vague outlined shapes and gain detail, the colors of the red rock and green trees eventually becoming visible.  I thought about how it's interesting that when there isn't much light, we see in sort of black and white and even though we can see an object we can't make out the color.  I'm pretty sure I learned about that in school at some point- something about rods and cones in our eyes and how one of them lets us see colors and the other just that sense of light that is responsible for our vision in dim light.
A fellow camper's car alarm went off while I was eating.  Woooooh-woooooh-woooooh-beep-beep-beep-maawww-maawww-mawww-woooooh-wooooh-woooooh-beep-beep-beep-maawww-maawww-maawww echoing through the canyon.  It tried out every attention-grabbing noise it could think of and then started the loop over.  I felt bad for the people, imagining them flustered and embarrassed trying to get it to turn off.   It probably took them a good five minutes and I'm sure everybody was awake in the campground by that point.
Once it was light, it was clear there were foot and hand holds carved into the rock face by my campground and a rope to help one climb up or down.  I walked over to give scrambling up it a try.  There I noticed a large spider, and then several other spiders.  Most of them were harmless daddy-long-legs, but they were giant and I had no desire to have one crawl on my hand while I was trying to climb up the rock.  I opted to take a few pictures and pack up instead.  After all, I had places to be, like work.  It's cool being able to travel for work, but the bummer is when you actually have to do the work part.  OK, my work is pretty cool too.
Red Rock Canyon
Click on a thumbnail to view the larger version
When I was sitting in the van, waiting for it to warm up, the wind picked up, blowing a ton of leaves off of the trees to send them swirling through the air and landing on the van with gentle thunks.  It felt like it was raining leaves and seemed like the essence of fall had caught me in it's embrace.  With that, I was off to my next destination.
To learn more visit the Oklahoma State Park website.