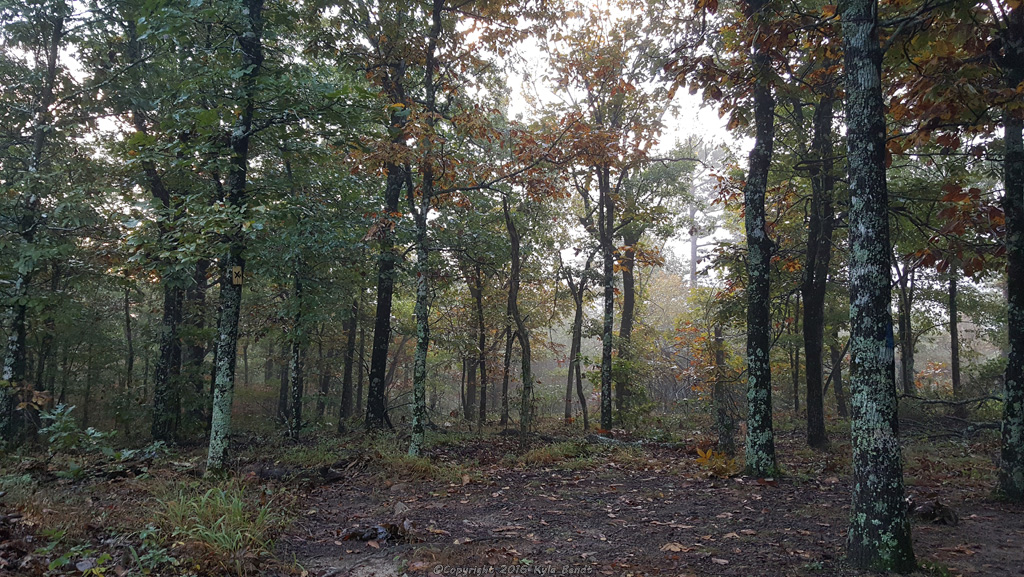 The Ouachita National Forest is perhaps my favorite place in Oklahoma.  I know in my post about Wister Lake State Park, I said the southeast corner of the state was my most favorite.  The Ouachita National Forest is in this same area, so I'm not just saying they're all my favorite.  Although I do have many other favorites, this area tops the list for me.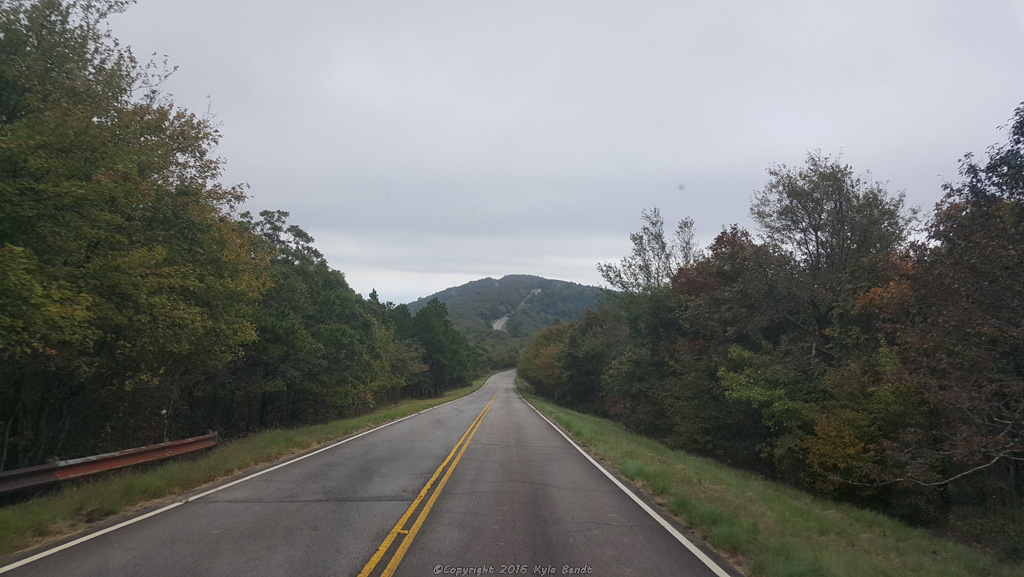 The Ouachita National Forest is home to the Talimena Scenic drive- an epic drive that curves along the top of the mountains from Talihena, Oklahoma to Mena, Arkansas.  The drive is known as one of the best motorcycle rides in the state and for good reason.  It's also one of the best drives I've seen.
The road is filled with curves and goes up and down the hills making it feel roller-coaster like.  Each curve makes you wonder what is around the next bend and the road seems to lure you forward.  There are several pull-outs with expansive views that look out across the rolling tree-covered landscape.
A few years back, I took a weekend day on one of my trips and did the complete drive and then found some other back roads from Arkansas back over into Oklahoma.  It always stuck in my mind as a gorgeous area that I wanted to see more of.  So on my last trip to Oklahoma, I figured I'd spend the weekend there since I had the van with me and could camp where I wanted.
I drove out there on a Friday after a work conference in Oklahoma City.  Talimena State Park is located at the start of the drive.  I'd stopped there before on my mission to see all the State Parks, but all it has is camp spots, RV spots and some trail-heads, so I hadn't stayed long.  Since I had the van with me this time, I thought it would be the perfect time to stop.  I remembered it as quiet and nestled into the tall trees of the forest.
When I finally made it there after a bit of a drive it was as gorgeous as I remembered, but also much more crowded and some of the people there were fairly noisy.  I decided it was not the spot for me that night.  It was eeking on towards late afternoon and I was starting to feel that unique tension of being on the road and wanting to find a place soon, but not really knowing where that place was going to be.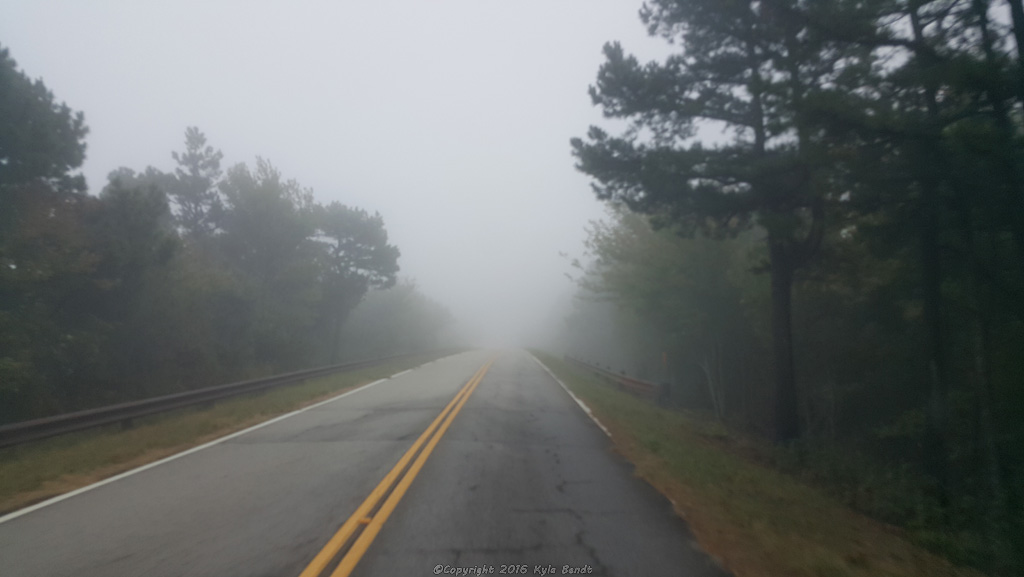 So I started driving up the Talimena Scenic drive.  I quickly hit fog.  Cool, blanketing, dense, encompassing fog.  I took the road slowly, knowing I couldn't see far.  It was cool.  I don't know how often that area sees fog like that but my previous journey there had been on a clear day and I love how different weather and times of year change an area.  One of the things I love about traveling to the same places again and again is the way they change and it's never really the same place.
Fog Pictures
Click on a thumbnail to view the larger version
I pulled off on one of at one of the scenic vistas to take some pictures. It felt strange and isolating in the fog. I knew that if it weren't foggy, there would be an expansive view but as it was, I could only see a very short distance. I studied the map a while and saw there was a dirt road tahead that I could turn off on and it looked hopeful for finding a camping spot.
I drove down the dirt road a few miles, but the road went steeply down and the only flat spot that would be good for spending the night was right where I'd turned onto the road. So I went back to there. It wasn't ideal because it was close to the highway, but I figured it would work for the night. In all other respects, it was a perfect, gorgeous little camping spot.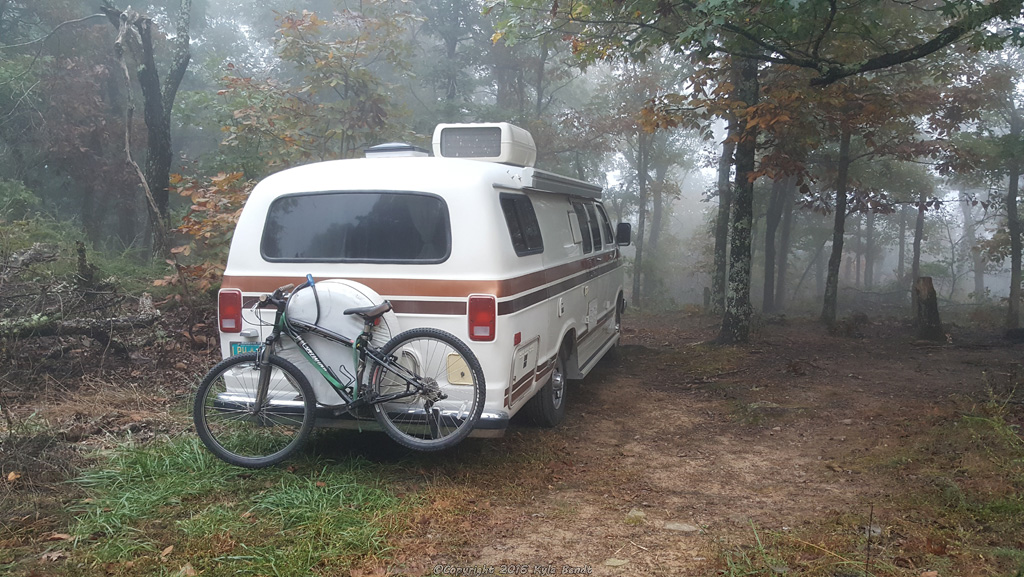 I was happy to have a place to call 'home' for the night.  The Ouachita Trail was right there, so I took off down it for a little ways, feeling drawn on by the mystery of what lay ahead.  The tall trees and dense fog made it seem so dreamy.  Eventually I turned back to go eat.  Once I had dinner, I went back outside again.  By then it was dark and being alone in the forest with the dense fog made me feel creeped out and I hid in the sanctuary of my brightly lit van.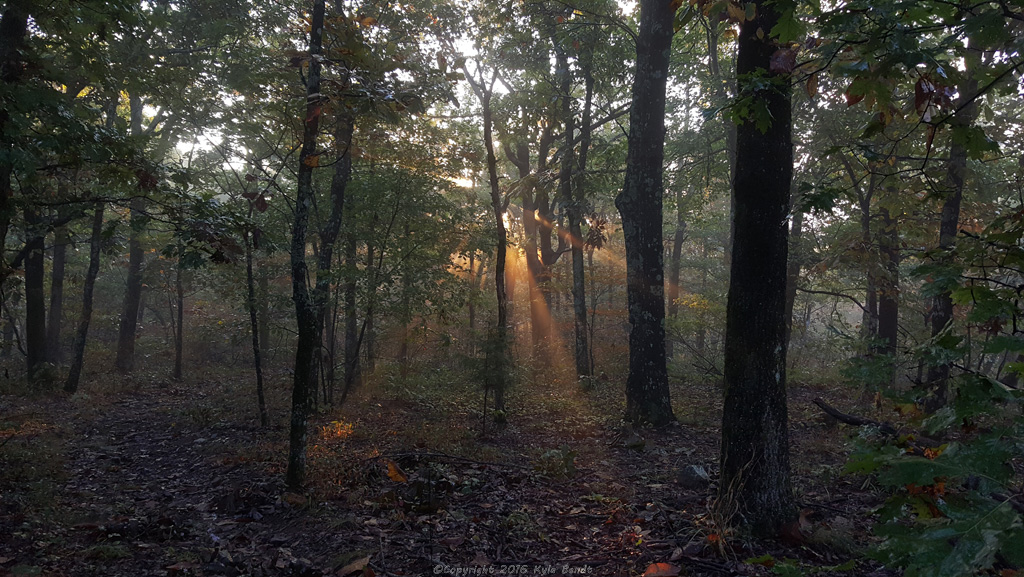 The next morning when I woke up, it was still a little foggy out.  As the sun rose, the sun beams filtering through the trees looked amazing on the fog.  As the trees moved in the gentle breeze, the sun beams danced around in this mesmerizing sort of way.  It was one of those super enchanting moments that just makes one feel like, "WOW!"
The only downside of the morning was that there was heavy motorcycle traffic on the road once the day got started.  They seemed too loud for the peaceful forest.
Bike Ride Pictures
Click on a thumbnail to view the larger version
After breakfast, I took my bike down a section of the trail.  I found a couple of bugs that look like sticks and was also treated to a gorgeous view at one point.  Sill, it was one of those rides that was less than enjoyable.  The terrain was just a little past what I'm comfortable riding and I walked more than I rode.
Then I crashed twice, the second time twisting my ankle pretty good.  Worst of all was knowing that I crashed both times because I suddenly freaked out, hit the brakes, lost my balance and went tumbling.  Both times I was riding parallel to the hill, and I ended up leaning towards the downhill side where the ground was too far away to get a foot down to stop my fall.  If it weren't for feeling afraid and hitting the brakes, I would have been fine.
I was relieved when the trail finally met back with the main road and I could just bike back on the main road.  But it turned out to be steeply uphill the whole way back and I had to walk the entire thing.  Every time a car would pass me as I was pushing my bike up the hill, I'd smile at them, hoping I wouldn't look as miserable as I was.
After my bike ride, I showered and drove on to find a new camping spot for the next night.  I found a dirt road that turned off of the main highway and went a few miles down it before finding a nice little spot.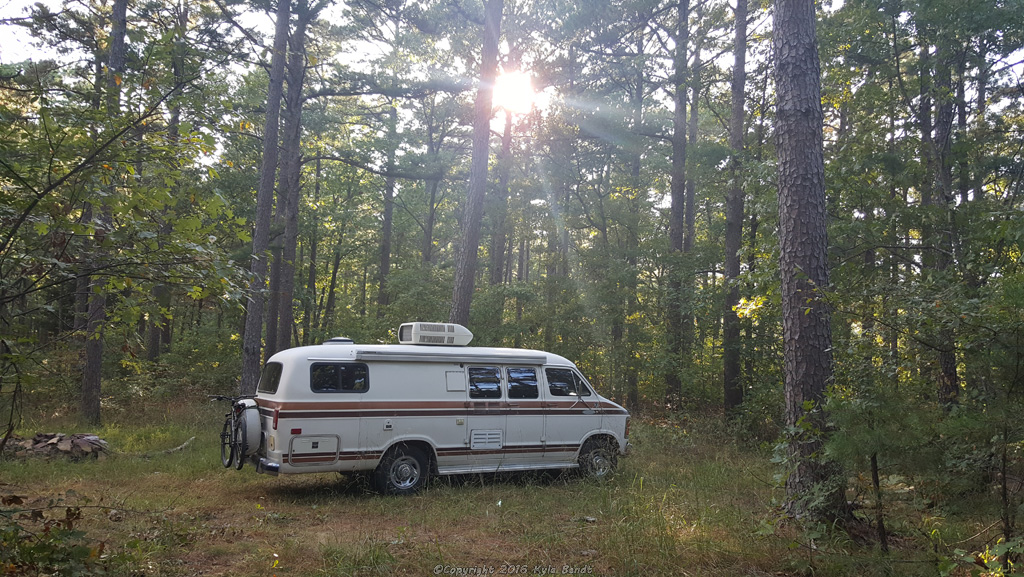 The next day I took off to Lake Wister State Park feeling more peaceful and rejuvenated.  The sky was overcast and visibility wasn't as good as it could have been, but I couldn't help but take a few last pictures on the way at a couple of the scenic pullouts.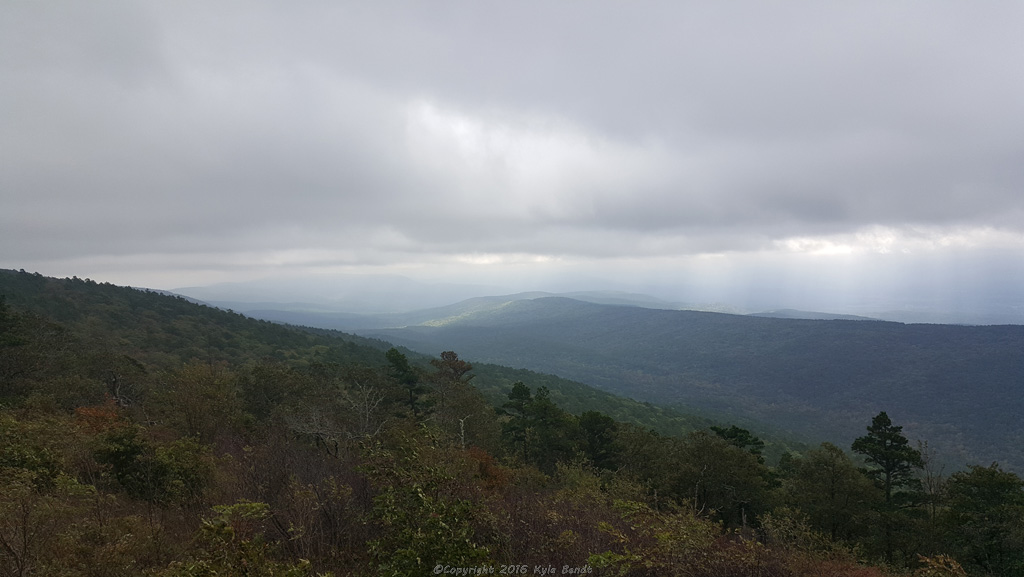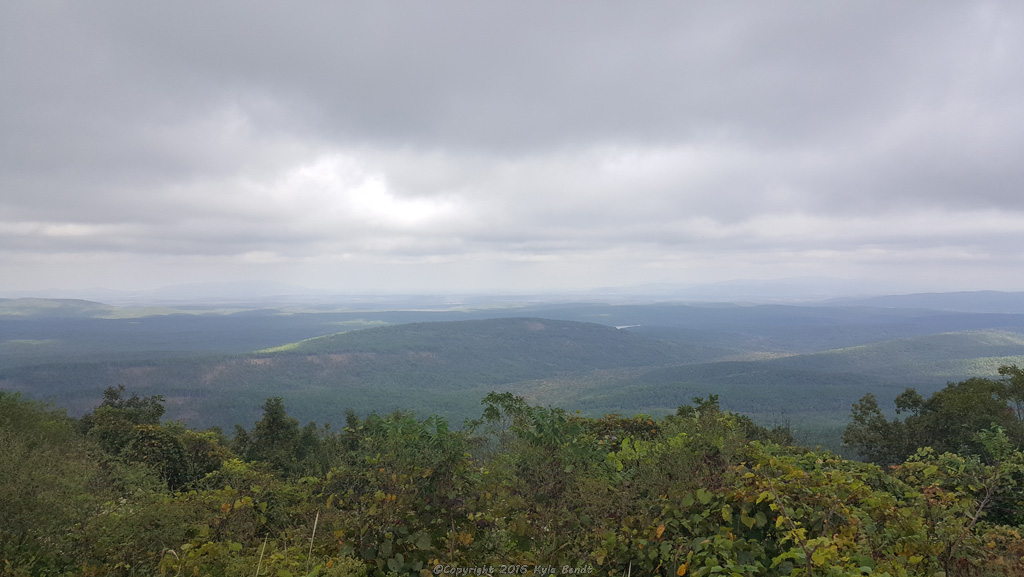 This is one of those areas I have plans to go back to again and again.