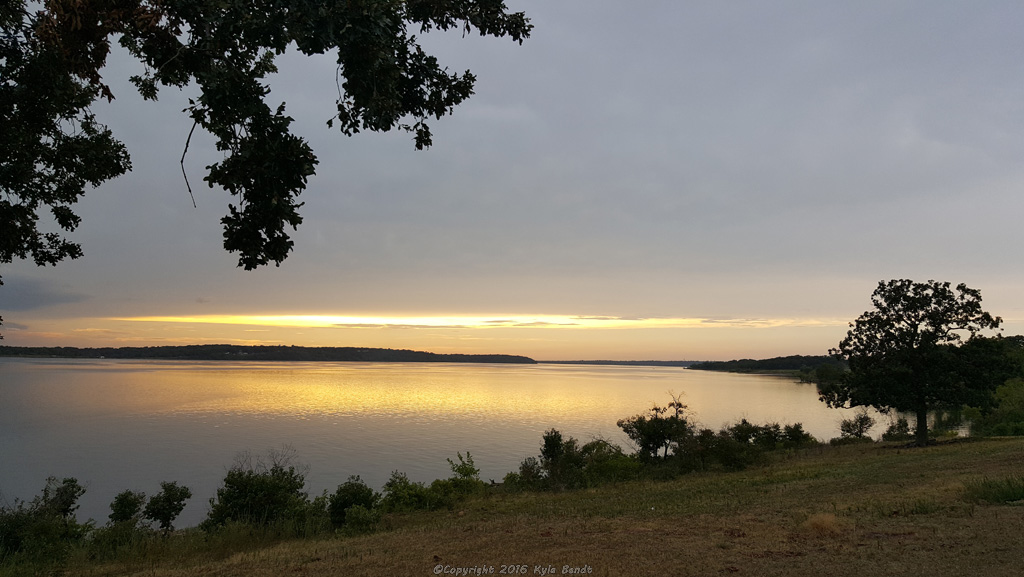 They say first impressions are strong and the curvy, tree-lined road that leads into the Sequoyah State Park once you turn off of the main highway makes for a great first impression.  It's the sort of road that has you feeling like just around the corner is something amazing waiting to be discovered, even though you know that just around the corner will probably look just like where you are currently at does.  Sequoyah State Park is one of Oklahoma's resort style state parks.  It features a lakeside lodge, cabins, tent and RV camping, a golf course and more.  It's situated on a giant finger of land that reaches out into the lake which makes for good views from a lot of areas in the park.  It's one of the larger State Parks and despite the resort-amenities, it's easy to take off down a trail and feel like you're out in the wilderness.  (OK, the trails are a bit more maintained than some of the ones out in the officially designated wilderness areas that I've visited.)
My first visit to Sequoyah State Park came at a time not long after I'd discovered the State Parks out in Oklahoma.  I was completely thrilled and also a bit upset that I hadn't known about them sooner.  I travel out in Oklahoma a lot for work and I feel like staying in motels starts to leach out my spirit.  The State Parks do just the opposite.  Anyway, after making this discovery, I set out to see all of the parks.  I planned a trip trying to stop at as many as possible and Sequoyah State Park was one of several that I stayed at in a short period.  My impressions from that first stay are vague and feel like more of an emotional memory of the excitement of that trip than specific details of that stay.
My latest trip there was brief.  It was early evening when I checked in after a long day of work and I was gone by eight the next morning.  Still, it was a great place to stay.  Motels don't really make me feel like going outside and walking around.  I can't stay at a State Park without wanting to get out of my room or cabin and enjoy being outside a bit, hiking or exploring around.  So once I unpacked the car, I meandered around the premises a bit.  Being early August, the air was oppressively hot, but I wanted to see the park a little, so I endured.  I went down to the lake shore and listened to the waves, watching a few birds circle around.  The tension from the day seemed to drain away.
I walked down the disintegrating trail to the very end of the land finger and took a few pictures of the trees there and of the trail since I liked the way the broken pavement and the rocky ground underneath went together.    I continued on and took some pictures of some old concrete stairs that had led down to the lake.  I think they have probably seen better days.  Writing this, I realize that for some mysterious reason, I am somehow fascinated with things that are falling apart like stairs and old buildings.
I found another less civilized trail that meandered through the woods by the lake shore.  I saw a fox dart through the bushes ahead of me, which I think may be the only fox I've ever seen in person.  There were plenty of white-tailed deer too.  I took some sunset pictures looking out over the lake, then returned to my room and slept.  The next morning, I awoke with hopes of catching the sunrise over the lake.  The sky was overcast, the sun didn't seem to be rising in a good direction for pictures and there were mosquitoes biting at me, so I gave up on that, went back to my room, packed up and left.
Thanks to the Oklahoma State Parks for another great stay!  To book a stay or learn more visit the Oklahoma State Park website.