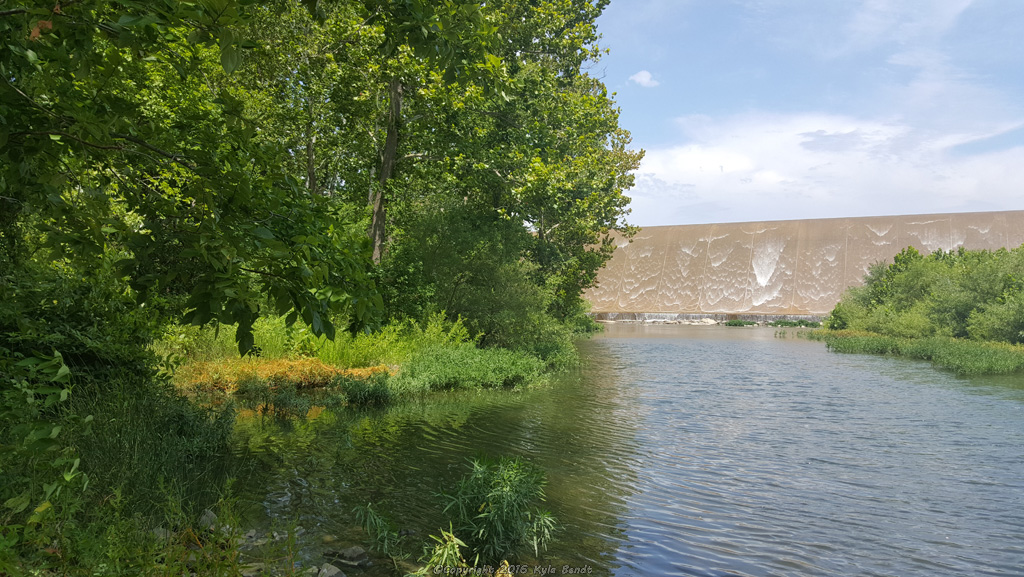 Spavinaw State Park is one of eight that makes up what is collectively known as Grand Lake State Park.  I headed out there with kind of low expectations: I could see from Google Maps that it wasn't a very expansive area and knew that it lacked cabins or trails.  Basically, it was looking like one of those state parks that is pretty much just a nice RV park.  Truth be told, I was only heading to it as a destination because of my goal to see all of the Oklahoma State Parks and because I had some extra time Sunday on a business trip.  It was the beginning of August which means it was hot and humid.  This uncomfortable, sticky sort of heat that makes me feel tired and grouchy.
I was happy to be on the road, with a destination in mind, cruising again after a week spent in Tulsa.  The drive was nice, music playing loud and the road leading to the park a series of curves and hills with tall trees growing along the road sides.  I like this part of Oklahoma because it is so green compared New Mexico.
Apparently this is one of the more neglected state parks since there isn't so much as a sign on the road pointing to it and I drive past before realizing I've missed it.  The state park is on the river below the dam for Spavinaw lake and I pull over at a little parking lot for the dam and climb up the stairs to the top of the spillway.  I can hear the waves lapping at the shore and the water running over the spillway.  The sound of water is always so soothing.  I walk out to the edge of the spillway and look down at the water running over it in sheets as the waves of the lake make it over the edge.  Looking straight down, the height of it is almost dizzying.  The lake itself is a deep green color.  I snap some pictures and then head back to my car and the sanctuary of my air conditioning.
This time, I'm prepared for the turn to the state park and pull in.  There's quite a few people there, camping, swimming in the river and fishing.  It's funny because I first started visiting the state parks in the winter, frequently on weekdays and always thought it was a shame they were so empty.  Now I realize, I was just there at unpopular times, but always wish they were more empty when I catch them at busy times.  I always feel this slight sense of anxiety when people are around, this sense that I should be on watch, this slight annoyance at the noise they make and their unruly kids.
I watch the families swimming in the lake for a moment with mixed emotions.  Appreciation for life, for the hot days of summer, the gorgeous surroundings, the fun I can see them having.  A sense of being separate- I'm not there with a family, not really partaking, just stopping by to observe for a few moments and leave.  Being around strangers can make me feel more lonely than being alone.  I snap some more pictures and walk back through the sticky heat to my car.  I don't want to be there anymore.  And I'm hungry.  Even though I have food in my cooler, it's too hot and humid for me to want to mess with it.  I dig an apple out of my bag and take off.
While I'd thought about stopping by a couple of the other nearby state parks, I realize that I don't want to see them in the heat.  It'll be more of the same- a few quick pictures and diving back in my car to avoid the heat.  I decide to go check in at my motel and save the other nearby parks preferably for a winter day when they'll be unoccupied.  Anyway, I realize that while I've wanted to visit all the state parks, this is one goal where the pursuit of it is the whole point.  Actually accomplishing it isn't going to mean much.
Still, I'm glad to have seen Spavinaw state park and I hope to go back sometime.  While it really isn't much more than an RV park, it's in a gorgeous location and I could see a picnic or a hike or sitting below the spillway for the dam and listening to the water slide down it.  I can imagine being parked there with the van and really being there as more than a passerby.  That's one of the things I like about the state parks- imagining the fun that could be had- the camping, and swimming in the lakes or rivers.  I imagine possibilities for the future, some of which seem too personal and maybe too precious to share.
To learn more visit the Oklahoma State Park website.