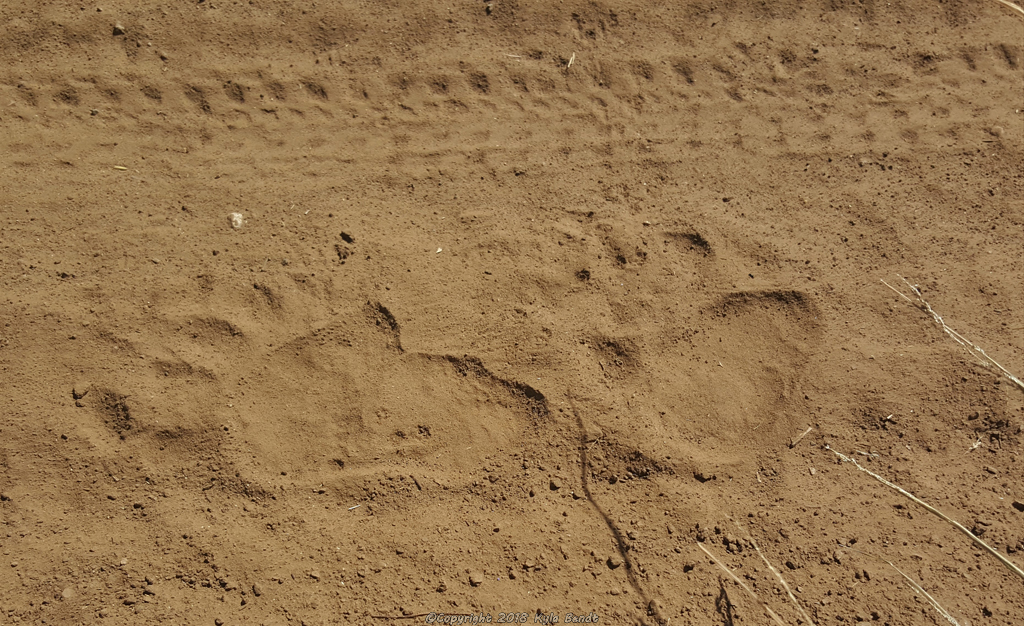 Today I went out for a bike ride on some of the nearby trails.  These are the same trails where I often go out hiking with B.
While I was riding along one of the Forest Service roads, I spotted some funny looking tracks.  Most of the tracks I see out there I imagine are some sort of big cat – maybe a lion or a tiger- but are really probably just from somebody's dog. 
These tracks I knew were not from a dog.  Some of them looked like giant paws, but the others looked like funny shaped human feet.  They were shorter and wider especially around the ball of the foot and toes, but definitely made me think of people feet.  But the other ones that looked like giant paws seemed menacing.  The combination of the two together made me very much not want to meet this thing.
I almost rode on past, not wanting to mess up my attempt to beat my best time on the trail.  Then I thought that not being able to stop to take a picture of something cool was not the sort of biker I wanted to be.  Plus, I wanted to find out what sort of tracks they were.  I'm not really very enlightened about such things, but maybe I should learn more. 
When I got home and showed the pictures to S, he said it was probably a bear.  We googled bear prints, and yep, definitely a bear.   The difference between their front and back paws is very distinct. 
It's not as though I didn't know that there are bears in the area.  Somehow seeing the tracks made it seem so much more real.
Holy crap.  There was a bear walking right here and sometime in the last 48 hours since I was here last.   Also, this is not very far from where B and I were 3 days ago.
I love finding stuff like this.  One of the things I love about hiking, biking and generally exploring is just the treasure hunt.  A funny looking mushroom, a glance of a squirrel running to hide, a peak at some deer, a tree growing in a funny spot or a cool rock.  It's exciting to me.  It keeps me going to see what is around the next bend.