White Sands National Monument is a really unique place.  It features miles and miles of white sand dunes and, well, really nothing else.  The fact that there is nothing else there is what makes it so cool.  It's a surreal sort of place.
Sam and I went backpacking there for a night.  White Sands gets a ton of visitors, but there are only 10 back-country camping permits issued a day.  Camping somewhere is a much different experience than driving around and maybe getting out to take a few pictures.  I like that feeling of really being places.
Back country permits are available on a first come, first serve basis, so we showed up at the Visitor Center mid-day to get our permit and then went to the Organ Mountains for the afternoon to avoid being at White Sands for the hot part of the day.  We came back in the late afternoon to hike in to our camping spot.
It was a relatively short hike in, maybe about a mile.  It does require packing in your own water since there is none available out there.  The weight wasn't a challenge, but making it fit in our packs was.  We talked, only partly  joking, about bringing a sled to haul our stuff in next time.  By the tracks in the sand, I'm pretty sure somebody else had done just that.
Hiking and Sunset Pictures
Click on a thumbnail to view the larger version
We had a fantastic time.  Being able to watch the sunset and sunrise was a real treat.  It's amazing how the change in lighting can make such a difference in an area.  I had been to White Sands a few times before this, but it was always for short visits during the day.  Frankly, the middle of the day isn't a good time to be there.  The sun glares down and is insanely bright reflected off of all the white sand.  It was super cool to see the dunes in the soft light during sunrise and sunset.
When we went, the moon was close to full and it reflected off the sand making it bright enough that we didn't need our flashlights.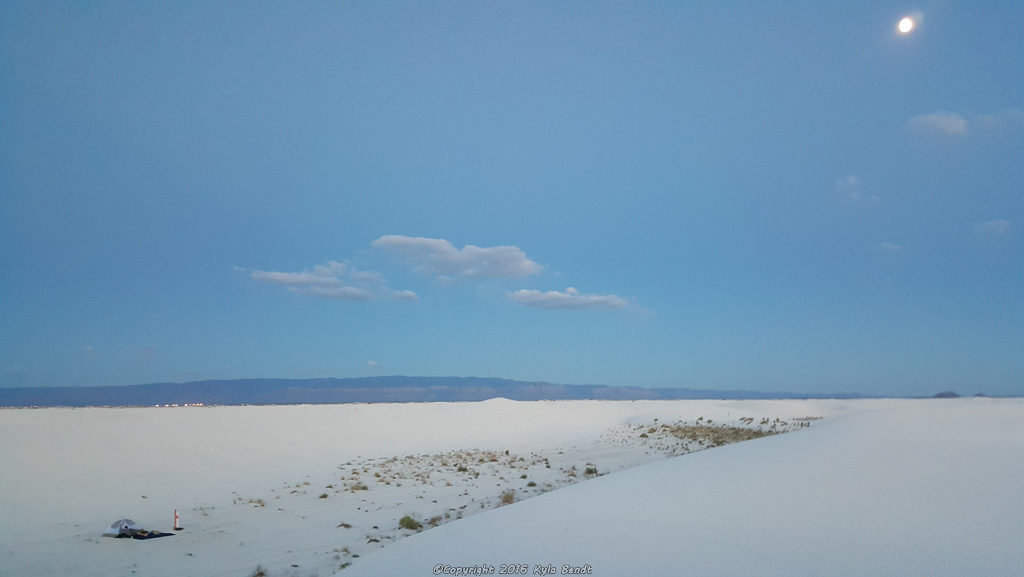 Watching the sun rise over the dunes was a real treat.  The light was magical.  My pictures hardly do it justice, and my words certainly aren't going to.
Sunrise Pictures
Click on a thumbnail to view the larger version
The only life we saw other than fellow backpackers was a few black beetles and some plants.  We did see a few animal tracks in the sand and heard a couple of squeaky noises at night.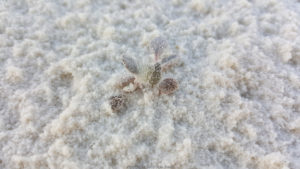 One of the things that I find fascinating is that there are little 'islands' of plants mixed in with the dunes.  These islands start to disappear as one goes further into the dunes.  The hardiest of plants manage to hang on, but as the wind moves the dunes, they start to be overrun.
Something I didn't expect was the total silence at night.  Thinking about it, the silence made sense as there isn't much in the way of life out there.  We happened to be there on a clear night when the weather was still and silent.  The loudest noise was that of our breathing.  It was peaceful and calm.  It was also very strange because even out in the woods, there is normally noise: leaves rustling, birds and bugs and little animals scurrying around.  Here, it was just silent.
Hoppy Pictures
Click on a thumbnail to view the larger version
This was a one-of-a-kind sort of experience.  If you ever get the opportunity to go backpacking at White Sands, I highly recommend taking it.  Actually, if you're interested in such things, I'd recommend making the opportunity. It's totally worth it.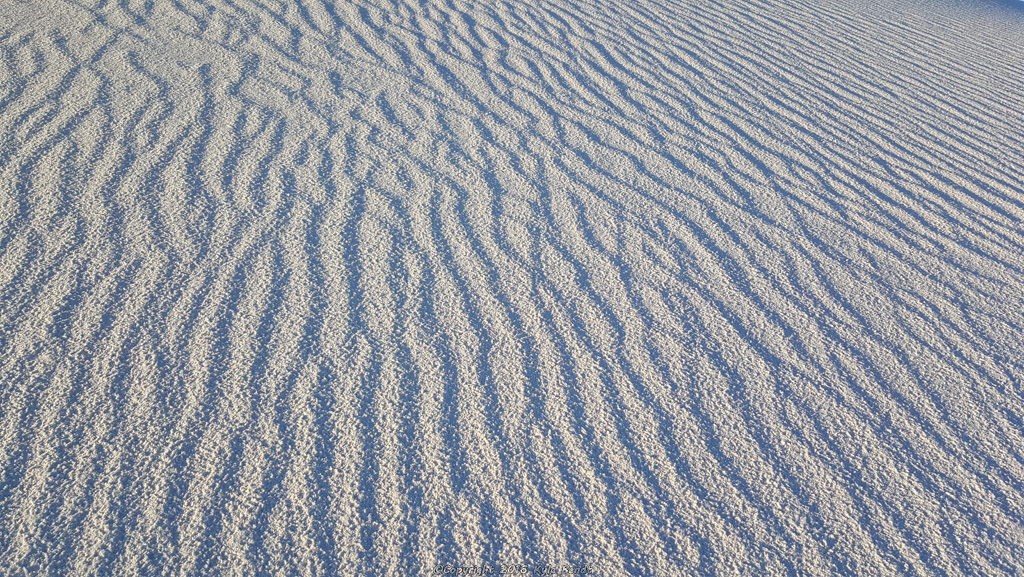 More information can be found on the National Parks website.