The story of a week long trip in the van
I left Socorro a week ago for a three night trip.  A week later I'm finally back home.  I left a night early for a weekend yoga retreat at Ghost Ranch, figuring that I would camp somewhere on the way.  I had a map showing some roads in the National Forest north of Albuquerque around Placitas.   I missed the road I was looking for, but probably just as well as the area was too populated for my taste.  I continued on into the Sandia mountains.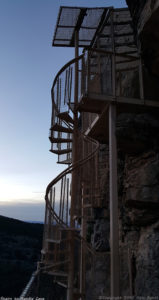 It was starting to get dark and as I was following up a dirt road and not finding a good spot to park for the night, I started to get a little nervous.  Luckily, I soon found a parking lot for a trail head and while there was one car parked there upon my arrival, they soon left.  There was just enough light remaining for me to head up the trail with a sign declaring it the Sandia Cave Trail and see what was at the end.  On my way up the trail, I ran into a young couple.  I said "Hello" and the guy said "Good morning!" (despite this being around sunset). The girl walking behind him said, "You scared me!"
After the odd encounter, I continued up the trail, climbing up the mountainside.  After about 1/2 a mile, I encountered a staircase heading up the side of a cliff to a cave.  The staircase wasn't exactly dangerous, but it felt exposed looking over the cliff side.  I opened the small gate leading into the cave, the mystery of what was inside and that small feeling of fear that can arise when exploring alone making the whole thing feel like an adventure.  The cave turned out to be dusty and not really all that big so I headed back down the trail to my van.
The next morning I hit the road towards Ghost Ranch.  I'd pulled off the interstate and as I was pulling back on between Albuquerque and Santa Fe, I found my van had no power.  With the gas pedal to the floor and traffic zipping up behind me, I crawled along at 35 mph, hoping that no semis would come plowing into me from behind.  I took the next exit and finished the drive into Santa Fe on the frontage road.  From there it was another hour or two driving until I made it to Ghost Ranch.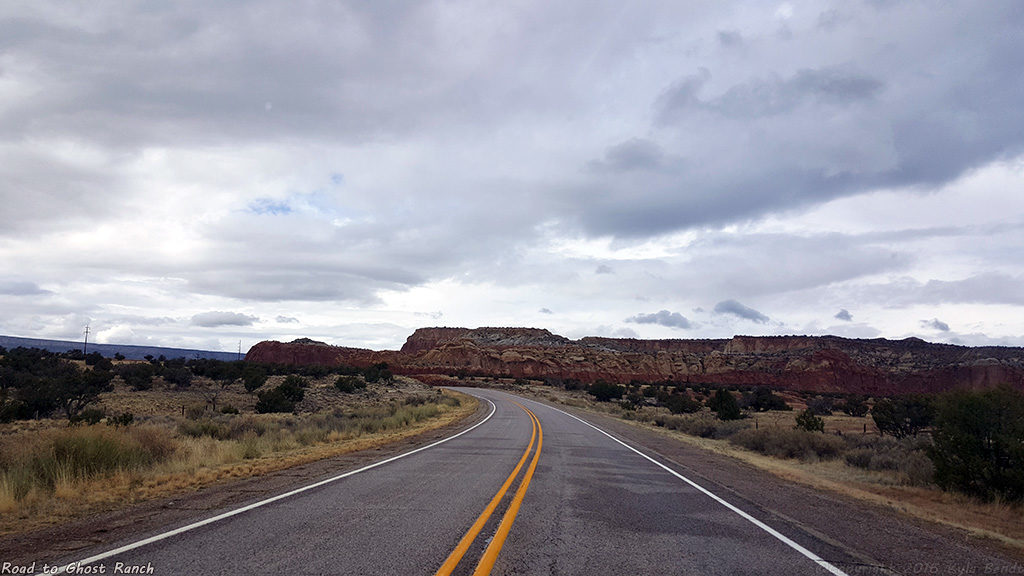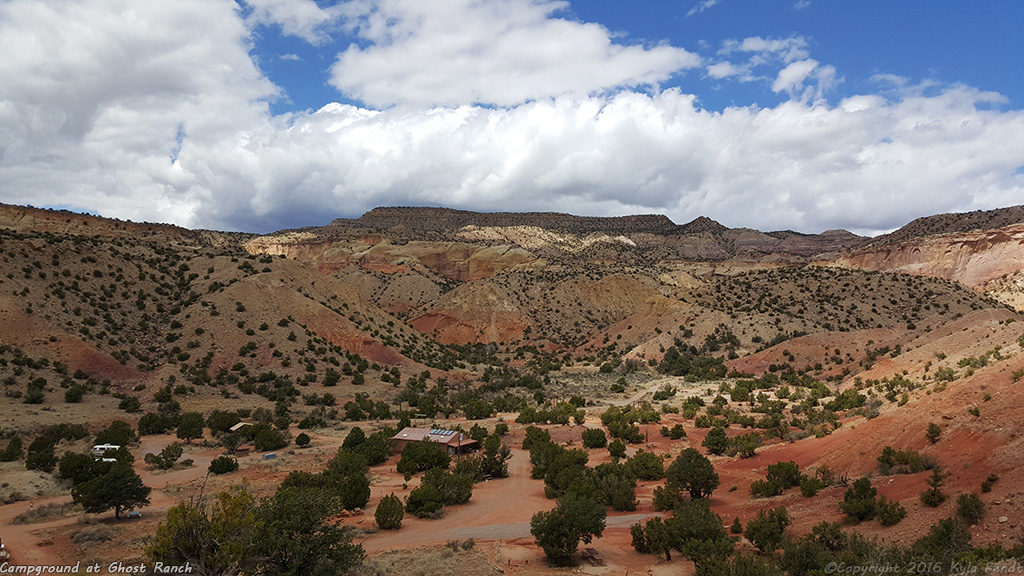 Ghost Ranch was a nice place to finally pull up to.  They have both lodging and a campground that accepts tent and RV camping.  The rest of my friends at the yoga retreat were staying in the lodging and other than a few employees I had the campground to myself as it was still early in the year.  It brought back memories of the last time I was at Ghost Ranch on a school trip in the 9th grade and not really particularly fond memories.  We had to volunteer to earn our spots there so I remember working in the gift shop folding T-shirts every morning and helping with the dishes in the dining hall after meals.  It was cold then too and we were staying in tents. The sand and dirt made everything filthy within minutes of arrival, but the thing that really bothered me then was that I didn't have the freedom to go off exploring on my own.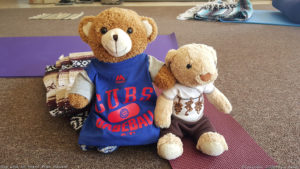 I have to say that this trip was a lot better.  Meals at the dining hall made everything a responsibility-free experience and eating with my fellow retreaters was nice.  I spend a lot of time alone which I really don't mind, but it's still nice to be social once in a while.  The yoga classes were amazing- relaxing, informative and enjoyable.  Hoppy even made a new friend at one of the classes- Brian Howard.  Plus Hop and I took off one afternoon for a 4.5 mile hike up to the top of one of the mesas.  Marissa had sold me on the hike by telling me that it even involved a small amount of rock climbing- not enough to be really scary or need any special gear, but enough to make you wonder if you should let somebody know where you were going.  It was a fun hike with  amazing views as a reward at the top.  I figured that taking the longest, most difficult trail on the list that I'd find a bit of solitude.  I was wrong.  I soon ran into several other people on the trail.  On the way back down, I passed an older couple on their way up that was also there for the yoga retreat.  I think they had a faster pace than I did!  This made me feel rather out of shape and by the time I got all the way back to my van, I was so exhausted I barely wanted to take the step up to get inside.  My only consolation was talking to the couple later and hearing that the hike was tiring to them too.  Likely it really wouldn't have been that hard for us except that we were really pushing the pace to make sure we didn't miss out on dinner.
Pictures from my hike
Things weren't completely perfect.  My water pump (the one for pumping water in the van, not the one that goes with the engine) was leaking even after an attempted repair on it that I had done the week before.  Plus, it rained while there and I discovered that despite having taken off and resealed the gutters on the van, I still had some leaks.  There was water dripping in at both the foot and the head of my bed, so I shrunk down a little when I went to sleep to avoid the damp spots.  At least replacing the fan over the bed a few weeks ago did stop the leak that had been there so there wasn't water dripping on the middle of the bed as well (unlike a previous trip I did in the van to Oklahoma last fall).  The problems didn't get to me though.  Water all over is a minor thing and the joy of traveling totally outweighs the issues.
After leaving Ghost Ranch, I stopped at Echo Amphitheater just up the road.  It's a naturally occurring amphitheater in the side of massive sandstone cliff walls.  True to it's name, it makes sound echo.  We used to stop there when I was a kid when we were on the way to visit my dad's parents.  There's a campground there now, which I think is new.  It's a beautiful area and a good place to stop for a rest break on Hwy 84 north of Abiqui.  I was going to have a little picnic there, but discovered the food in my fridge was frozen solid.  I guess I haven't quite figured out the settings yet.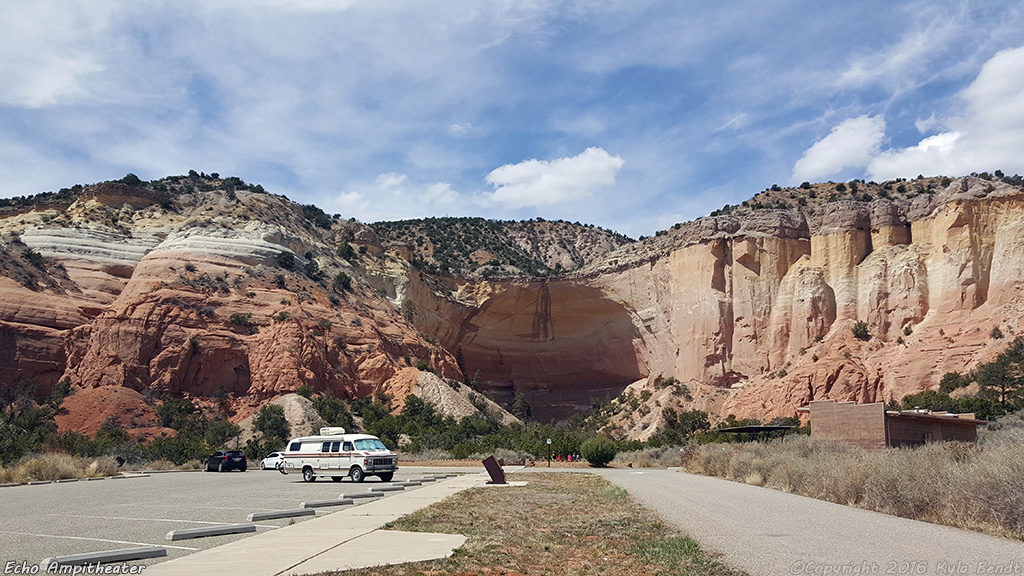 Looking at the map, I saw I was only a couple hours from the Bloomfield/Farmington areas where most of my family lives so I headed up that way instead of returning home as I'd planned.  I spent some time with family and worked with a friend to do a few repairs on the van.  (OK, by friend I mean my ex's dad, but we've always had a gotten along well.)  After not being able to accelerate on the interstate, I wanted to get things checked out by somebody that knew a bit more about engines than  I did.  We replaced the fuel and air filters, cleaned the carburetor, disassembled and cleaned the fridge which wouldn't run on propane, replaced the leaky water pump and traced down an issue with the brake light staying on.  The van was scarily low on brake fluid since apparently none of the shops I've had the van to have checked it.  We filled it up and I now know how to check it myself.  I stayed longer than I meant to, but we kept finding more things to work on.
One night, I got to try jelly made from a Carolina Reaper pepper.  Some guy bred them to be spicier than the ghost peppers which many people still think of as the hottest peppers.  The jelly had an amazing flavor- sweet, and like orange marmalade, but with a really nice kick.  I fell in love with these wraps we made with leftover pork loin, lettuce, guacamole, cheese and the Carolina Reaper jelly, even making an extra wrap to take on the road with me when I finally left.
It's amazing to have the freedom to just extend a trip and to have my little home with me wherever I go.  I can't wait until I have the freedom to just stay on the road and I don't have to make the return trek back to my house.
The Map
Perfect Vacation
I set out in my van one Thursday night
Leaving a day early to see the sights
Found myself driving up a long dirt road
Alongside which a bubbly little creek flowed
I was just looking for a simple place to park
Before the sun went down and it got dark
It started to seem that nowhere would be found
Certainly not somewhere that was a good campground
Then I found a parking lot for a trail-head
The perfect place to park my little bed
I went up the trail as the sun was setting
Looking to explore before crawling into my bedding
A short hike up the mountain led to a staircase
Made of metal, going up a sheer cliff face
So I held onto the railing rather tight
From the top, the view was quite a sight
The stairs led up to the mouth of a cave
I was all alone but I tried to be brave
Imagining there could be spiders or a snake
Or a homeless man waiting to hit me with a rake
I stood and listened but there was not a sound
So I slowly stepped inside to have a look around
After all my fears, dust was all that I found
So I hiked back down the trail to the campground
I ate dinner, shut off the lights and went to sleep
Woke up to go drink coffee by the little creek
Watching the tree branches dance in the morning breeze
It made me feel certain the traveling life is for me
After getting my fill of the dancing tree branches
I packed up the van and headed on to Ghost Ranch
For a weekend with yoga, friends and relaxation
This really is my idea of the perfect vacation!
Further Resources
Ghost Ranch
Ghost Ranch has an impressive number of retreats throughout the year and they are generally surprisingly affordable.  It's famous for being where Georgia O'Keefe liked to paint.  It's kind of in the middle of nowhere offering gorgeous views and a bit of solitude.  Information on retreats or visiting Ghost Ranch can be found on the Ghost Ranch website.
Santosha Yoga and Meditation Retreats
Marissa Wolfe ran the yoga retreat at Ghost Ranch and she runs wonderful retreats throughout the year. I've been to a couple of them and both were amazing experiences.  More information can be found on the Santosha website. Marissa also runs the Yoga del Sol studio in Lemitar where I attend yoga classes on a regular basis and is a wonderful person and yoga instructor.  You can also check out Marissa's blog.
Thanks
Thanks go to Marissa for a great retreat, Gary for helping with the van and being an all around great guy, Maggie for Mr. Rabbit's yoga mat, blanket and bag, my fellow retreaters for making it a great experience, Sue for bringing Brian Howard and my mom for lunch.  Also to all my wonderful readers for getting this far in the post.  🙂  If I'm forgetting anyone, it's due to my foggy memory, not lack of gratitude.