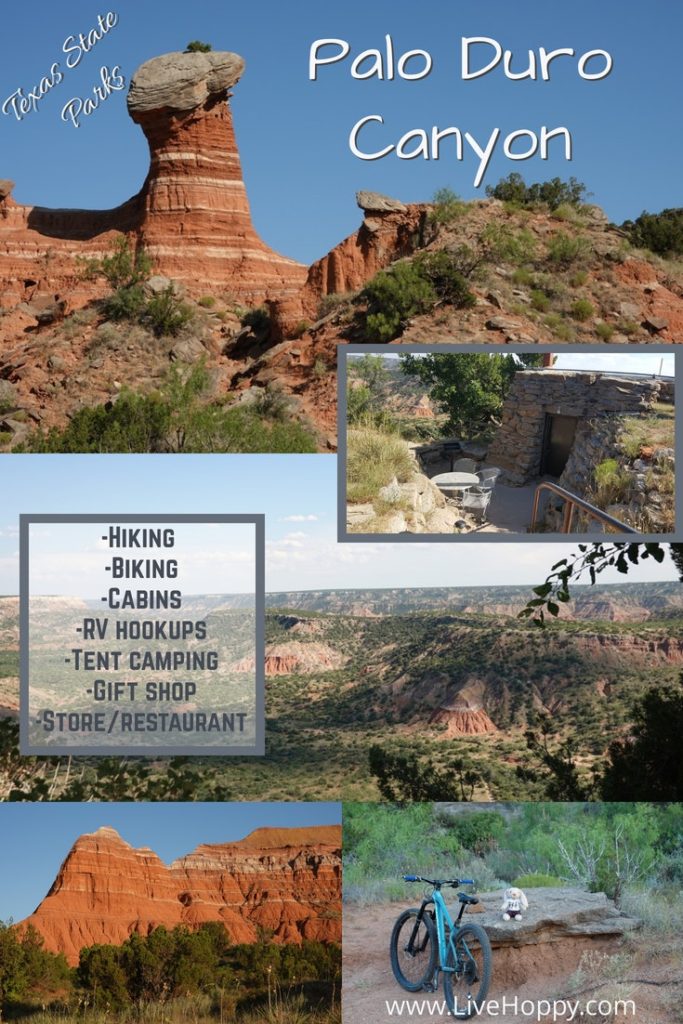 Can I be honest? Well, it's my blog, so I intend to be. My first visit to Palo Duro Canyon State Park didn't really impress me. But, (spoiler alert) my second visit did.
My memories of my first visit are a bit vague. I'm sure I have pictures somewhere, but I don't know where. What I do remember is that it wasn't awe-inspiring and I didn't feel a strong need to go back.
Granted, I don't think I so much as got out of my car there. Probably it was dreadfully hot so I drove the loop in my air-conditioned Honda, decided it was lame and took off.
I think part of this was due to expectations. Palo Duro Canyon is sometimes advertised as 'The Grand Canyon of Texas!' The thing is, I've been to the Grand Canyon and it completely fell flat with that comparison.
The literature says Palo Duro Canyon is the second-largest canyon in the United States, although I'm not sure on how they measure this. Is it depth? Width? Length? Some combination of these things?
In any event, it's on a very different place on the WOW! factor scale than the Grand Canyon. Perhaps because it's width makes the depth less impressive?
---
I have to take a moment here to provide some context. Palo Duro Canyon is in the Texas panhandle which can be characterized as flat cow country. (Now featuring giant windmills that have sprouted up over the last decade because it's often unpleasantly windy.)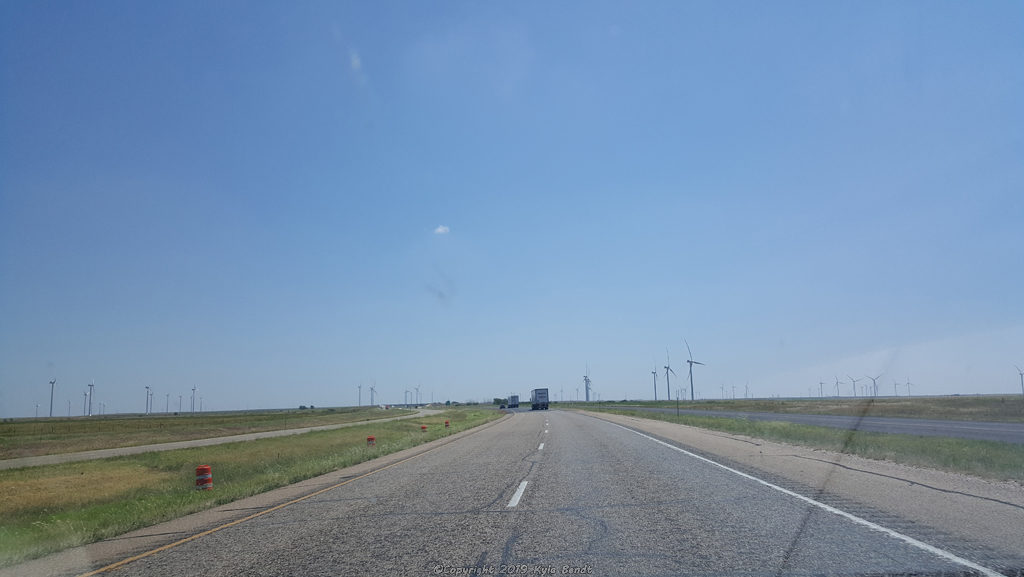 ---
Anyway, Palo Duro Canyon State Park does have three cabins on the canyon rim that you can stay in. I am obsessed with State Park cabins, so it was on my mental bucket list to stay in one some day. They are generally booked up weeks in advance, so despite my many trips through Amarillo, it had never worked out.
And then Sarah posted on her blog about staying at Palo Duro in her van and her experience there was clearly so different from what I remembered.
It still was not that high on my list to go back to until I took up the 30 Day Ride Challenge to ride my bike for 30 days in a row in July. And not just to ride, but to ride a trail that's mapped on the Trailforks app.
I had a business trip to Tulsa, and the only trails on the app between Albuquerque and Tulsa were at Palo Duro Canyon.
I was poking around online and found the reservation page for the cabins and amidst solid blocks of 'booked', there was a single cabin available for one night- the night I would be on my way to Oklahoma. So I booked it, happy with my ridiculous luck.
Texas gets hot in the summer and I knew if I wanted to ride my bike I'd want to be out early to do it and having a place to stay in the park was the way to go.
The Lighthouse Cabin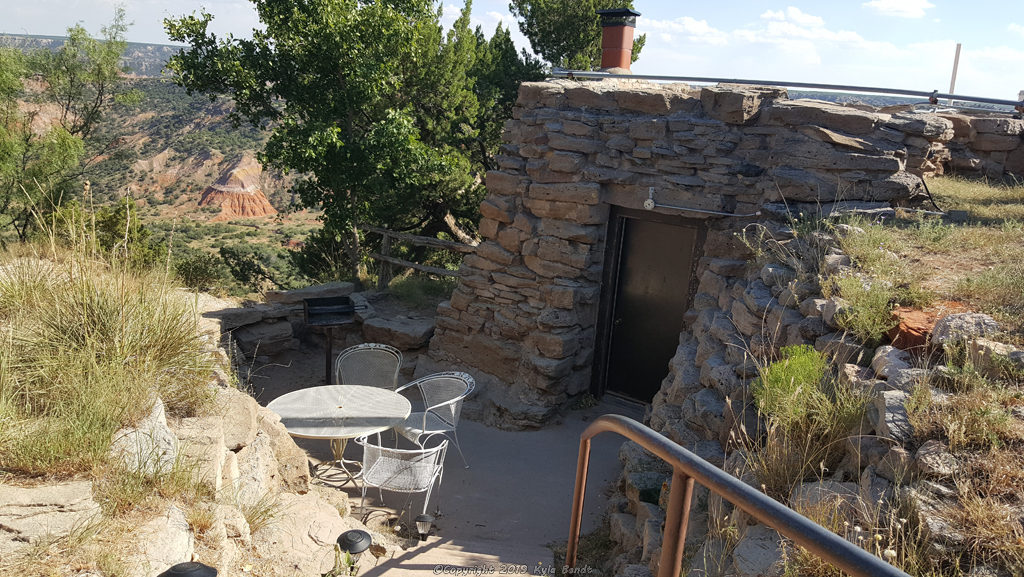 My first stop when I made it in to the park was my cabin. The outside was ridiculously charming. The cabins were built out of rock by the CCC.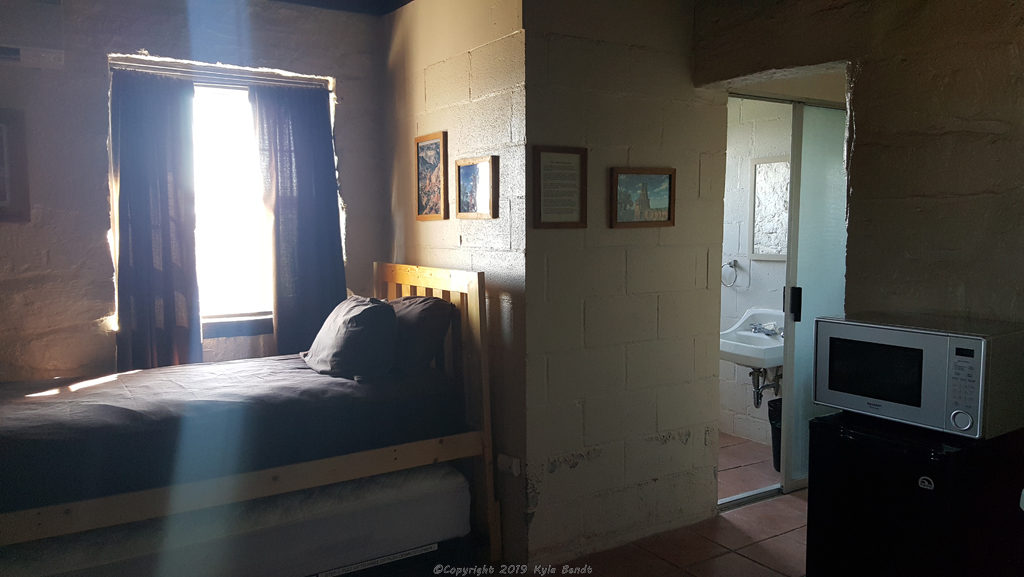 The inside was almost too rustic for me, with paint peeling off the walls. (OK, with the baby I've been thinking too much about the dangers of lead paint with every antique toy from the grandparents.) I am sure this cabin is old enough to have layers of lead paint in there.
But it met my needs, had AC and the location was amazing. Oh, and the bed was super charming.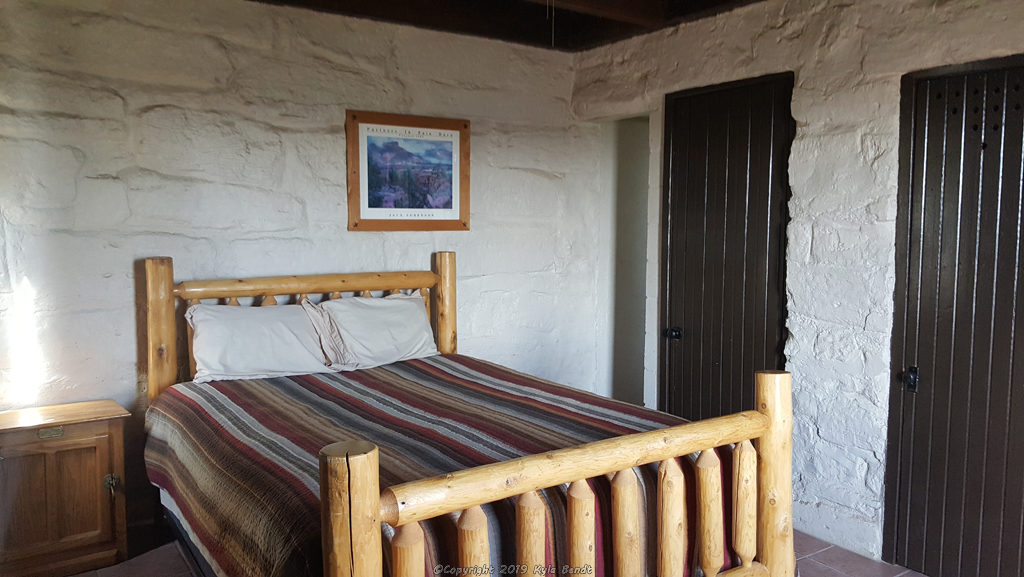 Plus it came with a beautiful green and blue lizard.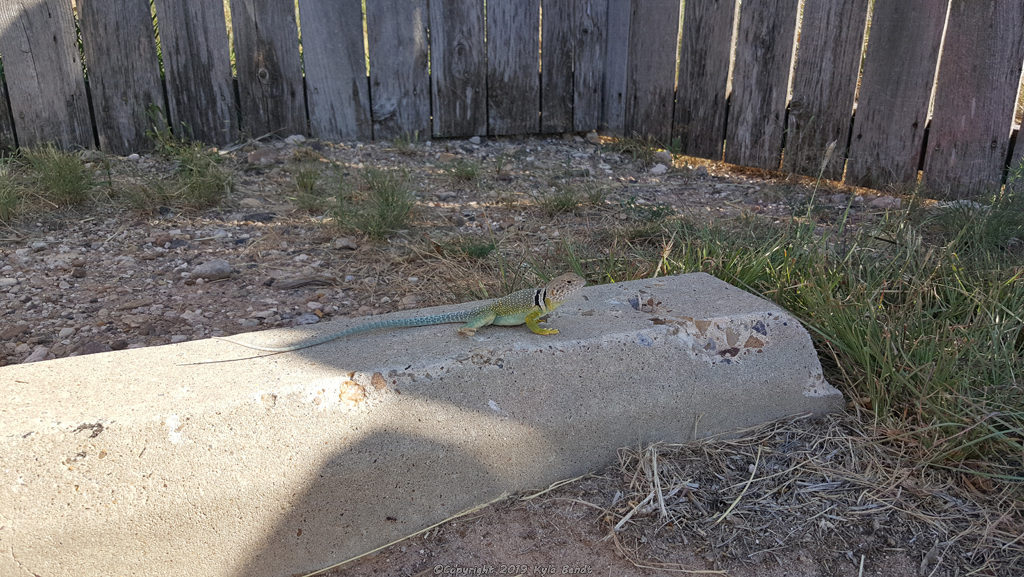 Exploring the Canyon
After unloading the car at my cabin, I took off to go explore the cabin.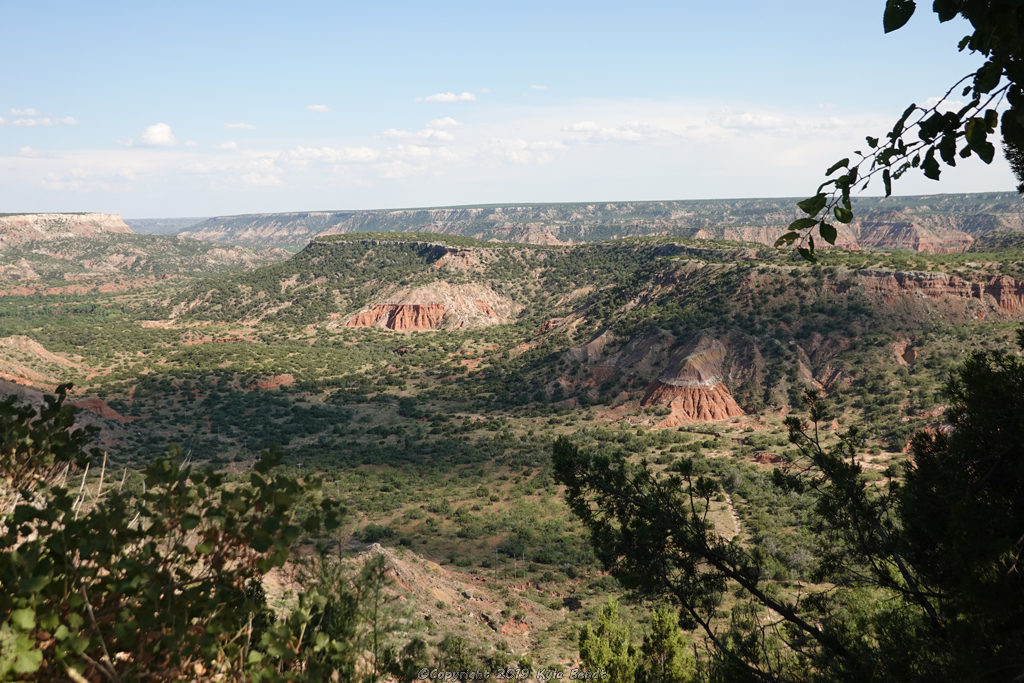 I drove the full loop at the bottom of the canyon, checking out the little store/restaurant and aiming to get a feel for the place. There's an amphitheater where they have the musical Texas some summer nights. Also lots of RV and tent camping plus picnic areas and hiking, biking and horse trails.
I had a picnic dinner at a cute picnic table that sat all by itself under a tree at the top of a small hill with a little trail leading up to it. The spot was just too cute to pass up.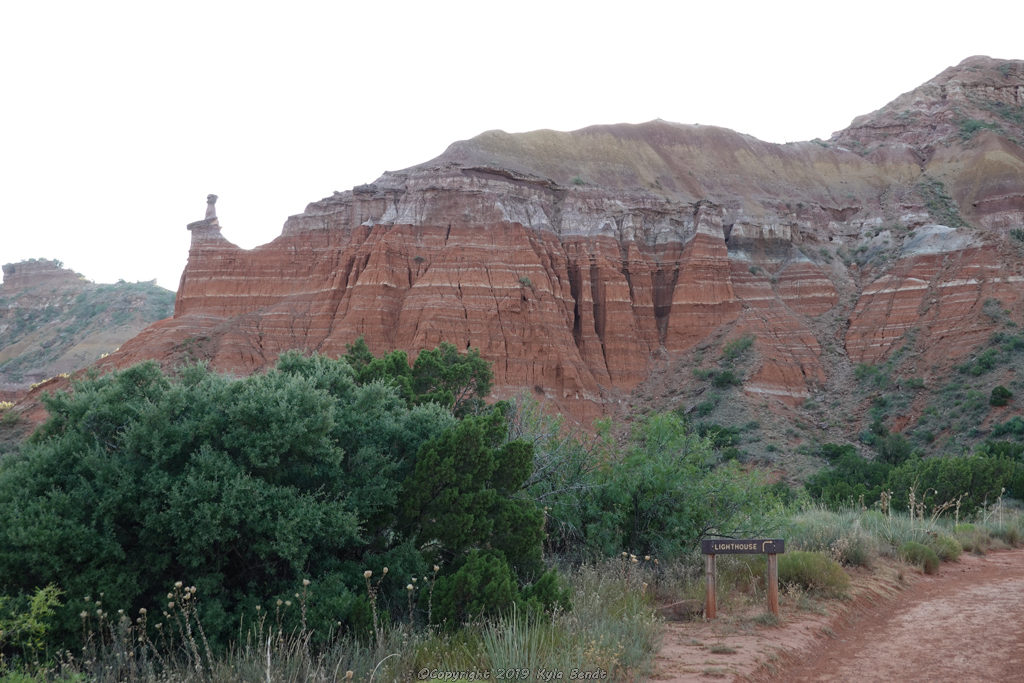 Then I went on a bit of a hike. By then it was getting on towards sunset and the lighting was amazing on the red rocks and dirt. The temperature was also starting to become bearable.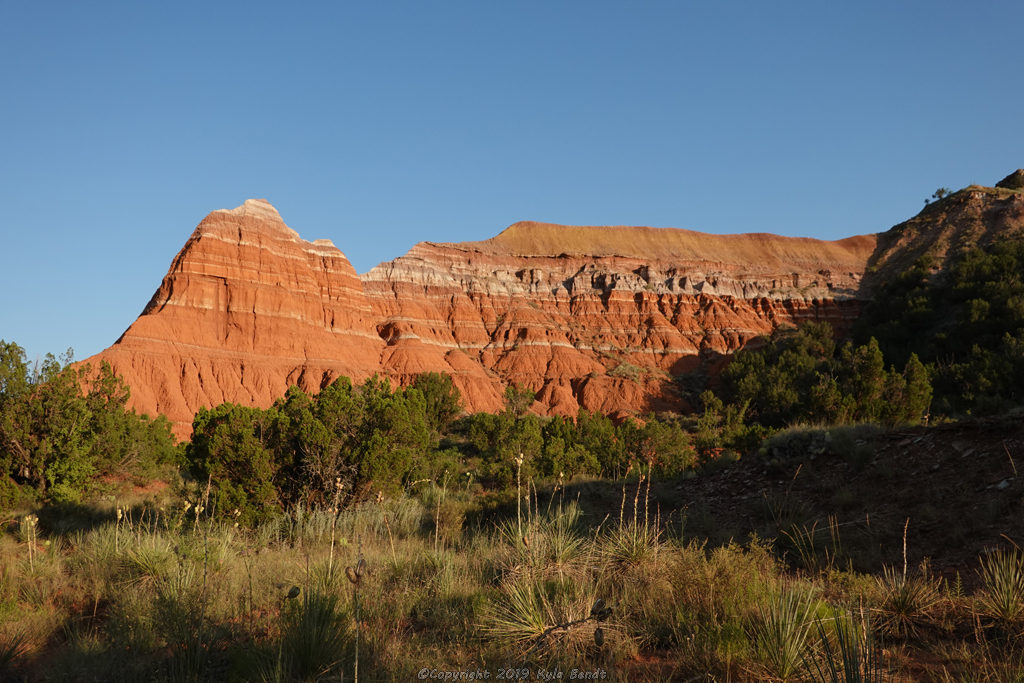 I hiked as far as I could before feeling like I needed to turn back before it got dark. I also ran into two tarantulas on the trail on my way back as the light was fading.
For whatever reason, I stopped and took pictures of them. I guess I instinctually want to capture interesting, notable or unusual things that I find. Then later looking at my pictures I thought, "I have no desire to look at pictures of big spiders" and deleted then deleted them.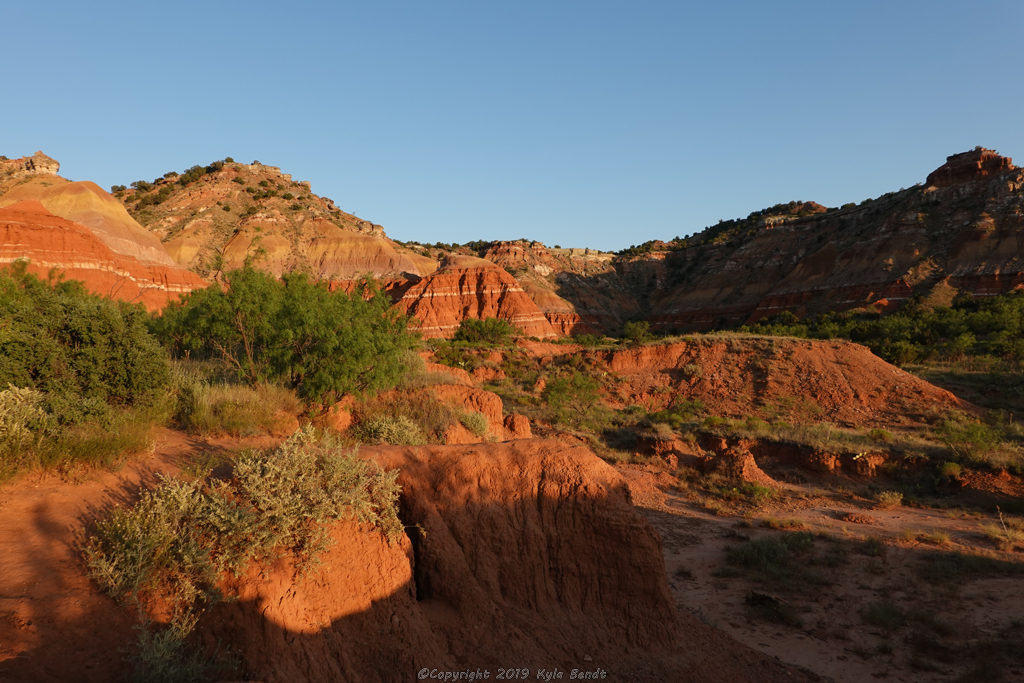 Mountain Biking at Palo Duro Canyon
The next morning I was up and at the trailhead before it was really light out. I went on my bike ride. (I took the Spicer, Givens and Lowry trail to the Lighthouse trail and then on my way back I also did the Little Fox Canyon Loop- a total of about 11 miles.)
Staying in the Lighthouse Cabin made me feel like I needed to check out the Lighthouse Rock. That trail mostly felt like a super-highway. It's the most popular trail and basically they try to keep it so they can drive a 4-wheeler out there to rescue people that don't bring enough water or aren't prepared for the heat.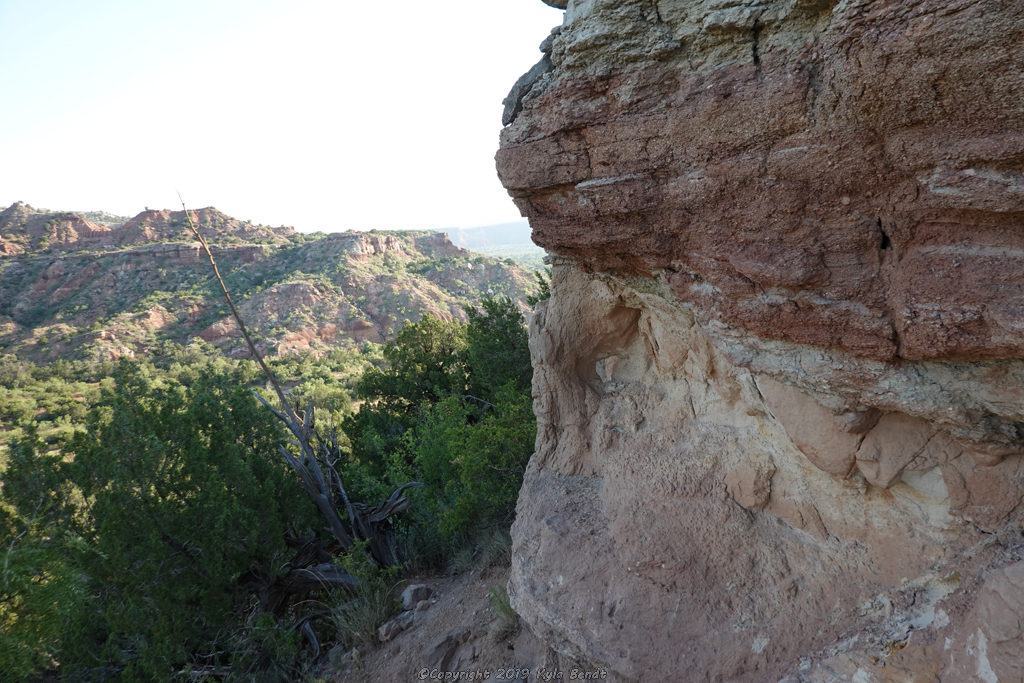 It didn't make for the most interesting bike-riding (The SGV trail made up for that though). But it did have excellent views and the final ascent to the Lighthouse is a challenging bit of trail- basically unrideable.
There's a bike rack at the bottom, which I should have taken as a sign to leave my bike there, but instead I persisted with carrying it up the trail a little bit before wising up and stashing it in a bush.
Then I was rewarded with a view of this thing: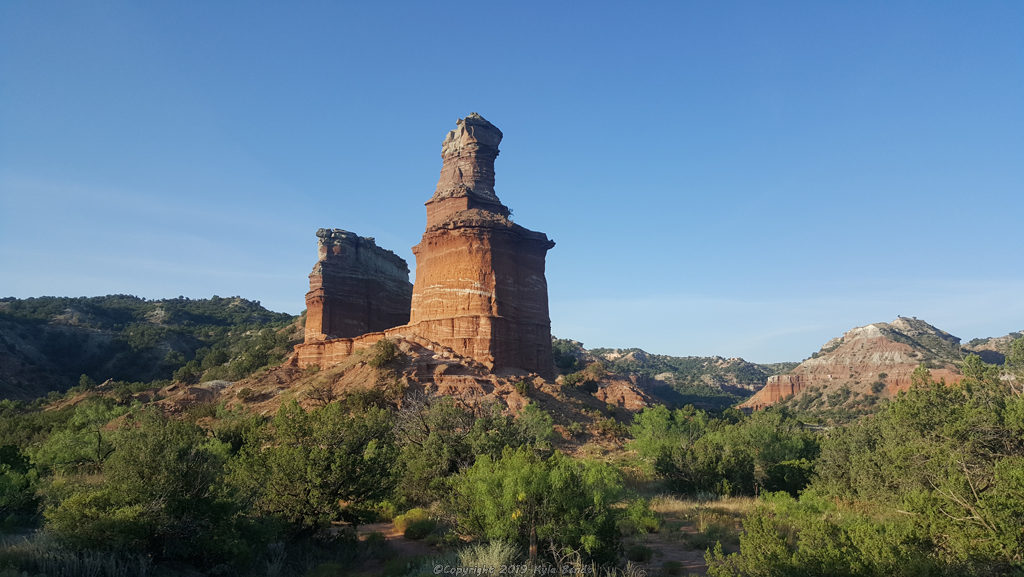 The trails were pretty fun, with extra points given for being the only mountain bike trails in the area. I would definitely ride there again, although I would prefer not to do so in July.
By the time I got back to my car, it was just so hot. There were a few other trails I'd been interested in checking out, but by that point it was just too hot for me to actually do so.
Plus it was time to get a shower and get checked out of my cabin.
Palo Duro Canyon is now much higher on my list of places to return to. While I wasn't totally in love with the cabins, I would stay in one again just for the location. Or I'd camp there at a different time of year. There are a few more trails I'd love to explore on my bike and some others that looked like they'd be fun to hike.
To me, it's a much more interesting place to stay than any of the options in nearby Amarillo.
If you're in the area, Amarillo does have a free RV museum that's fun to check out and Cadillac Ranch is also an interesting and photogenic place. Just don't forget the spray paint!