My cat is missing  🙁
One of my two cats went missing.  This is not the first time this has happened since I moved to Albuquerque, but this is the first time that I haven't found her again within a day or two.  I still have hopes that she'll turn back up- I've put up signs around the neighborhood and she does have a microchip so if anybody takes her to the humane society they'll be able to identify her as mine.  She's also a very friendly cat so it's quite possible she could find somebody new to take her in.  Still, it's just very sad.
House repairs
I've been working on getting my house in Socorro ready to sell.  It will, of course, look nicer when I go to sell it than at any point while I've been living there.  It is still gratifying to be completing these things that I've had in mind for some time.
One thing I always enjoy is learning new skills or discovering how to use a new tool.  I don't consider myself to be very good in the physical world, by which I mean at things like home repairs, mechanical things, manipulating physical objects and things like say, parallel parking.  I'm much more comfortable with words, formulas and ideas.
Since it's and area of challenge for me, I'm much more pleased with myself when I manage to tackle a physical problem.  Over the last few years, I've developed a liking for such tasks- trying more home repairs, car repairs and RV repairs.  I've gotten a lot better at such things too.
This week I was extremely pleased to make a nifty trick I saw on a YouTube video work.  My house has wood laminate flooring, but in a couple of places, gaps had developed between the ends of the floor boards.  I got a funny tool with suction cups on it that I think is for carrying glass around and a big rubber hammer.  I vacuumed the dirt out of the crack, attached the suction cups to the floor board and whacked the side of them a few times with the rubber hammer.
Lettuce plants and salad
I planted some lettuce in a couple of pots, but so far I don't have much to show for it.  There is one little green thing that has just sprouted in one of the pots, but I'm not sure it's actually one of my lettuce seeds.  I'm determined to keep trying until I get the knack for it.  I've never been very good with plants, and while I feel like I must somehow be jinxed, that really doesn't seem particularly logical.  Surely if I keep at it, I can make something grow.
I've also been trying to grow my own sprouts, but haven't quite got the right amount of seeds to start with figured out.  The first time I used too many and ended up with a very over-crowded jar of sprouts.  The second time, I cut back a bit too much and ended up with a small little cluster of sprouts at the bottom of the jar.  Hopefully I've about narrowed it down to what the right amount is and will give it another go soon.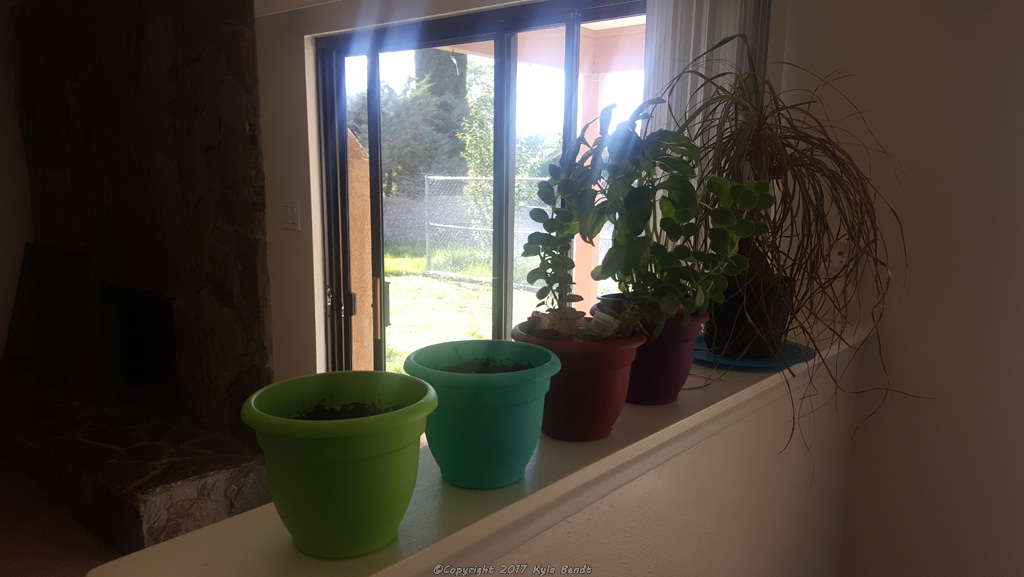 I've still been making lots of salads, albeit with store-bought lettuce.  My favorite concoction this week was a bacon-feta-apple-walnut salad.  Next time, I'll probably try it without the bacon though.  It sort of over-powered everything else.