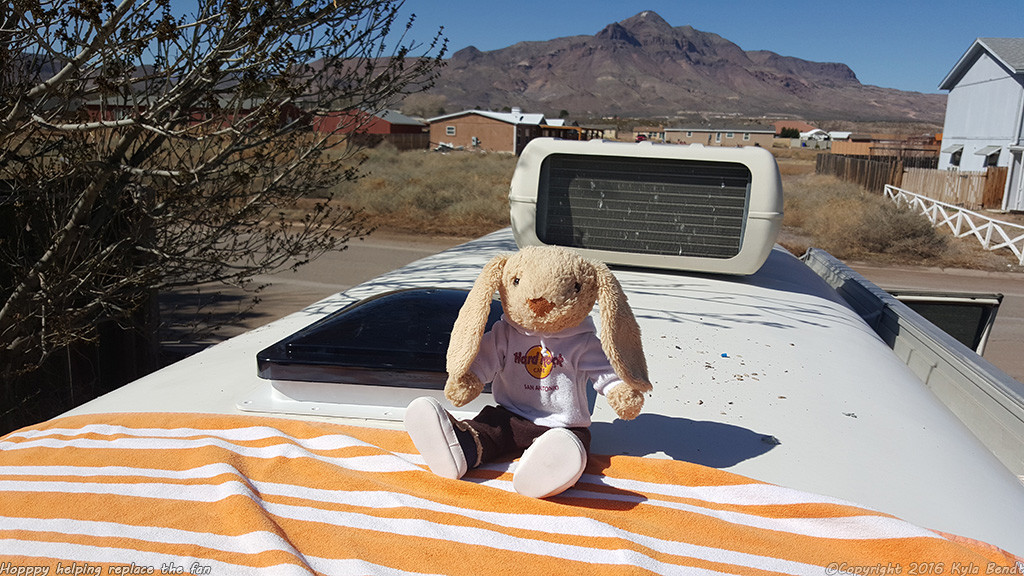 There were some things that I wanted to get taken care of on the van before I moved in.  I had it out on a two week trip a few months before beginning to prepare it for living in, so I had some ideas about the things that needed to be fixed.  While part of me just wanted to move in, I knew I would be better off if I took the time to do some of this stuff first.
Tint, shelves, tires & curtain rods
I also had the windows tinted to help keep the van cooler and provide some extra privacy.  The tires still had good tread, but they were several years old so I had new ones put on to be safe.  The improvement in handling and the smoother ride from the new tires made me glad I did.  Then I put some temporary shelves in the closet so I could fit more stuff in there in an organized fashion. I also installed new "curtain rods" (basically some wire with a white plastic coating and some nice looking hooks to attach it).  You can see from the picture of the curtains below that I still need to re-do the window screens in a couple of the windows.
Installing a new fan
I had a leak in the vent/fan over the bed and I didn't want water dripping on my when it rained.  So, I replaced the vent fan with a better one.  I have to say that the new fan was one of the best things I've done for the RV.  I only put it in because the old one was leaking, but the new one has been amazing!  It move an incredible amount of air, is remote controlled, has a thermostat option, a reverse option, and a rain-sensor that will automatically close the lid if it rains.  My favorite thing is just the amount of air it moves, making it comfortable in my van at times when I otherwise would have needed the air conditioner.
Here's links for everything I used for installing the fan on Amazon: Fan-tastic 807350 vent with digital wireless remote,  universal vent installation kit, dicor lap sealant.
(Note:I participant in the Amazon Services LLC Associates Program, an affiliate advertising program designed to provide a means for sites to earn advertising fees by advertising and linking to amazon.com. I only link to the few products that I would recommend anyway. I am very selective since I hate ads, thus the lack of any other form of ads on here.)
The toilet
I did a lot of maintenance on the toilet.  I completely took it out of the van and cleaned everything.  It has two gate valves that drain it, one directly under the toilet and the other at the end of the drain pipe.  Both of them leaked, which created some real problems.  I replaced both valves and several other parts on the toilet.  It was not the most glorious job, but it's worked a lot better since then.
The dream list
There is a lot more that I want to do to the van and an endless list of cool things that I'd like to buy for it.  I just wanted to start with the most important things before I actually moved in.  The other stuff is stuff I can work on while I'm living in the van.  Plus, some things that I think I want I may find out that I don't really need.  My dream list includes a 12-volt monitor, solar panels, an extra battery, a back-up camera, a stereo with a built-in GPS and a screen to see the back-up video feed, a generator, new carpet, new upholstery on the seats, re-wiring the stereo so it runs off of the auxiliary battery so I can use it for watching videos, adding an extra shelf in the back, and the list goes on and on.  The truth is that I know that a lot of that stuff probably wouldn't really even increase the quality of my time on the road.  For now, I'm happy with having things fixed up and ready for me to move in!
Repairs
I just wanted to move into my van
But I couldn't skip steps in the plan
First, I had to make a few repairs
To fix the damage from wear and tear
I replaced the fan over the bed
So that water won't drip on my head
But it had other benefits as well
The breeze from the fan is now quite swell
I put shelves in the closet for things
A place for all the shoes I'm gonna bring
Then I went to Firestone for new tires
And put up curtain rods out of white wire
Then I went to have the windows tinted
But I think the guy's brain was dented
There were bubbles and even a piece of lint
So I took it back to be re-tinted
Now that I'm through with all of that
I can move into my new van habitat
I'm one step closer to being on my way
To my dream of Xploring the country some day